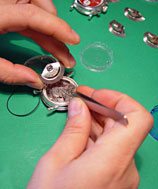 Italian Laguage School in Florence Leonardo da Vinci offers a new course concerning the Italian language learning for foreing students in visit to our country. Starting from January 2008 the school organises some special courses in "Jewellery, Stone Setting, Chasing, Jewellery design and Gemology" combined with our language courses, lasting 3 months to one year.
Since the beginning, Scuola Leonardo da Vinci offers to its students the chance to learn the Italian language by getting in touch with the culture of Italy and its most important tradition. This is the time of Florence Goldsmith art, which boasts a very ancient tradition appreciated throughout the world.
The aim of these courses is to make students able to use the different Goldsmith techniques in order to realize high quality objects. They will start by creating very simple objects, then they will go ahead to make more complex objects, and they will finally specialize in and in the famous technique called Traforo Fiorentino. At the end of these courses students will be able identify the different gemstones and make use of the different materials generally used in the field of Goldsmith.
It is a new and exciting way to turn the learning of Italian language into a cool and interesting activity. Usually any language contains the art and culture of the country to which it belongs to, and Goldsmith is one of the most important parts of Florence history, an active city that every year hosts important exhibitions of this kind.
The "Courses in Jewellery, Stone Setting, Chasing, Jewellery design and Gemology" will start any Monday and will last 12 weeks at least.
If you are in Italy, want to learn Italian language and take with you a piece of our country and of the wonderful city of Florence, then do not hesitate to enrol to our special courses.
Find all the information about the Jewellery courses in Florence

The Scuola Leonardo da Vinci is situated in the Heart of the Old City of Florence near Piazza del Duomo. From here you can reach the most famous squares and sights in a few minutes' walk.





Latest posts by Scuola Leonardo da Vinci Florence (see all)