Have you ever been in Milan, the capital of business, fashion and design?
Milan, industrial emblem of our country, is also the most internationally renowned Italian city in the world. Here you can meet people from every region of Italy and from every country of the world, because through the years it has become a cosmopolitan city placed in the center of the world's trade and business.
But it's not only business, evolution and progress. Milan has also an ancient heart in the center of the city to discover, which offers a interesting variety of high buildings, palazzos, churches, and historical monuments, such as Royal Palace or Sforza Castle, that is why so many people from all over the world want to see this wonderful city.
Milan is a lively city day and night, in fact it offers a wide range of restaurants, discos, cinemas, bars, charming cafes with theatre-like furniture, and last but not least,  "La Scala", the most famous opera house in the world, the Duomo and a lot of other important sights. Is it enough? Milan seems to be a perfect location for students who decide to have a unique experience abroad, for studying a language and meeting a different culture.
But why study Italian? A knowledge of Italian is important for people who works in the arts, technology, business and many other professional fields. It is also useful for students planning careers in art history, music, linguistics, education and international relations, just to name a few. Italy is also world leader in the culinary arts, interior design, fashion, graphic design, furniture design, and people who is planning careers in these fields would benefit greatly from knowing Italian language.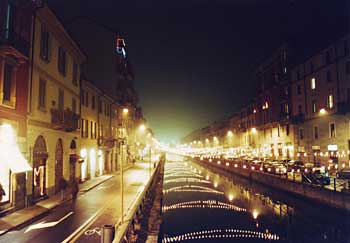 And why not choose to leave for Milan on the occasion of the traditional "Oh bej Oh bej" Fair? This traditional and ancient fair takes place once a year on 7th December, to celebrate the day dedicated to its patron, Saint Ambrose. It is a wonderful occasion to see this particular event, which is a real festival of colours, lights and fragrances, and lasts for 3 busy and intense days, where citizens crowd the city's streets and there's lot of stalls.
So, if you are uncertain about the date to leave, it would be really interesting to come to Milan on the occasion of this special event!
Our Italian language school in Milan offers several types of courses to learn Italian language, culture and traditions. There are courses of any kind you can choose among: you will be spoilt for choice! General Courses, Intensive courses, History of Art Courses, Culinary Traditions Courses, Business and Professional Courses, Art Fashion and Design Courses, and many more…all to discover on the Leonardo da Vinci School's website.
In addition, there are also the brand new Italian Christmas Courses which will start on 15th December and will last one week. But if you want to leave next year, all you have to do is having a look at Dates & Prices 2009, which are available on our website, together with all the information about the courses.
Scuola Leonardo da Vinci Milan is located in the city center in "Crocetta" district known for its liveliness, style and culture attractions.

Thanks to its prestigious universities and academies, Milan is the elected place of education for numerous Italian and international students.
Latest posts by Scuola Leonardo da Vinci Milan (see all)