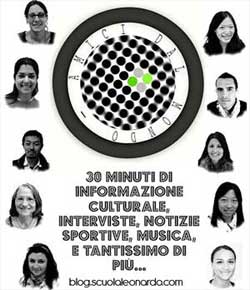 Questa settimana abbiamo terminato la seconda puntata di RADIO LEO!
Alcuni studenti hanno registato il programma e ci hanno raccontato il loro Natale. Ascoltateli e vi divertirete a scoprire ciò che hanno voluto presentarci dal loro Paese. … fateci sapere cosa ne pensate, lasciate un commento sul nostro blog e alla prossima…
Con la radio della scuola Leonardo Da Vinci si gioca, si ride e si fa musica senza dimenticare cosa succede nel mondo. Seguiteli con noi sul nostro blog!
Ascolta la seconda puntata:
Se hai perso la prima puntata: clicca qui!
Scuola Leonardo da Vinci Milan is located right in the heart of the dynamic Navigli District just few steps away from the city center and main tourist attractions. There's no better place to dive inside the creative and innovative soul of Milan and relish the vibrant atmosphere around our Campus.




Latest posts by Scuola Leonardo da Vinci Milan (see all)