In onore del 150° anniversario di Firenze Capitale, presso gli Archivi di Stato di Firenze è stata allestita la mostra "Una Capitale e il suo Architetto". Tra le tante proposte interessanti, quella di  costruire una Spa in centro a Firenze. Purtroppo non tutti i geni vengono assecondati!
Quanti tra di voi conoscono la storia dell'Unità d'Italia? Avvenne nel 1861, quando Roma era ancora in mano allo Stato Pontificio e fu di fatto esclusa dall'iniziale processo di unificazione, voluto principalmente da Cavour e Garibaldi, che guidò la famosa spedizione dei mille. In un primo momento, la capitale del nuovo Regno fu Torino, già capitale del Regno Sabaudo, di cui Cavour era stato Ministro e Presidente del Consiglio. Nel 1865 la capitale fu spostata a Firenze a causa di accordi presi con Napoleone III, che voleva l'allontanamento della capitale d'Italia dal suo confine (con grande disappunto dei torinesi).
Firenze si trovò soprendentemente e impreparatamente ad accogliere funzionari, impiegati e politici del neonato Stato Italiano. Proprio per questo motivo, la città subì molti cambiamenti improvvisi e inaspettati: una parte delle mura e porte storiche vennero distrutte, Palazzo Vecchio fu allestito a Parlamento, nuovi quartieri vennero impiantati laddove c'erano solo campi, furono costruiti i viali e il Piazzale Michelangelo sui colli.
A progettare la maggior parte di questi cambiamenti fu l'architetto Giuseppe Poggi, che aveva pure pensato di inserire un giardino e delle terme Spa tra Piazza Beccaria e il Lungarno della Zecca, laddove oggi sorge la caserma militare (http://www.archiviodistato.firenze.it/archipedia/percorso.php?_idPercorso=11) . Purtroppo il progetto fu uno di quelli mai realizzati, come il completamento della Stazione Leopolda. Infatti, non appena Roma fu annessa al Regno d'Italia assunse il ruolo di capitale nel 1871 e le risorse allocate per l'urbanistica sparirono magicamente così come erano arrivate 6 anni prima e Firenze tornò ad essere "soltanto" la capitale del Rinascimento!!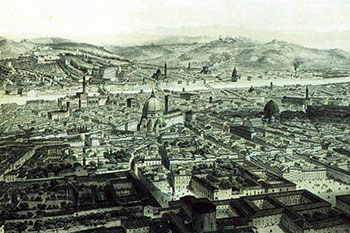 A Firenze, fino al 6 giugno, è stata allestita una mostra con i documenti, le mappe, le foto, i disegni e i vestidi di quegli anni che videro Firenze salire al ruolo di capitale. Quale migliore occasione per scoprire qualcosa di nuovo sulla storia italiana?
3 Febbraio - 6 Giugno 2015
Archivio di Stato di Firenze, Viale Giovine Italia, 6
Apertura
Dal Lunedì al Venerdì dalle 09 alle 17
Sabato e Domenica dalle 10 alle 13
Ingresso gratuito

The Scuola Leonardo da Vinci is situated in the Heart of the Old City of Florence near Piazza del Duomo. From here you can reach the most famous squares and sights in a few minutes' walk.





Latest posts by Scuola Leonardo da Vinci Florence (see all)