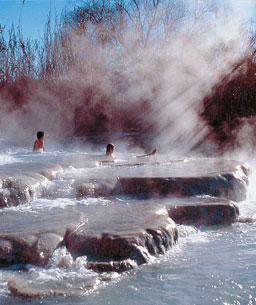 Want to go outside Siena and see and do something different? Tuscany has a few thermal baths, which are hot springs of calcium and sulphur that are open to the public. The terme are like outdoor health spas which boast a new relaxing experience. You can go there to get away from everyday life and relax for a whole day if you like. Prices are very reasonable, adults pay less than €15 for a day.
There are a few thermal bath in the region, but the closest to Siena are the Rapolano Terme, which has two indoor pools and a further four outside. The pools have varying temperatures, so you can choose the temperature that best suits you. In the biggest of the outdoor pools, you can stand right underneath the hot spring and enjoy the warm water. At Rapolano Terme, you will also find a nice bar which serves meals and drinks so you can stay there all day without worrying about getting thirsty or a bit peckish! The changing rooms are clean and you can get a locker for your valuables, just like at swimming pools back in the UK!
Children are welcome at the terme as well, although playing and splashing are not tolerated as it is for relaxing, not swimming or playing, so not to worry – your quiet relaxing time won't be disturbed by noisy kids!
In the summer, the terme are open late, so you can go there almost anytime around the clock and enjoy the hot springs. In the winter, it is an unusual experience as you can be sat in a hot outdoor pool when it is pretty cold outside! Quite an experience that is worth a visit!!
What you can find if you choose to study in Siena.
Fine here more info about the thermal baths in Siena.

Italian Language Schools and Courses in Italy.
Learn Italian in Italy in Florence, Milan, Rome, Turin and Viareggio




Latest posts by Scuola Leonardo da Vinci (see all)