Fancy seeing a great view of Siena and some of the beautiful Tuscan countryside from a different perspective? The view from the top of the Torre del Mangia at the Piazza del Campo is surely a sight not to be missed! It is also a fantastic photo opportunity for all those snap happy tourists out there!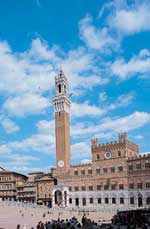 You can climb to the top of the tower for a small fee, and there is even a discount for students. The only thing is, if you are claustrophobic or have any fear of heights, then perhaps the tower is not the place for you. There are hundreds of steps, which get narrower towards the top. However, you don't have to go all the way to the top; there is a space where you can stop and see the views about half way up. If you climb to the top, you may need to put in a bit of effort to climb all those steps but it is definitely worth it when you reach the top of the tower and see Siena from a completely different point of view.
Another place you can go to get a bird's eye view of Siena is at the Museo dell'Opera del Duomo, near to the Duomo, where there is an outdoor walkway, offering a panoramic view of the city. There are not as many steps as at the tower, but there are still narrow stairwells and again, worth the effort for the view. You can see the centre of Siena and the campo in all their glory from the top of the walkway.
Both of these tourist hotspots are not to be missed on a trip to Siena. A great way to see Siena, at a small price! Don't forget your camera!!

The Scuola Leonardo da Vinci is situated in the Heart of the Old City of Siena, just a short walk from the famous Piazza il Campo. From our school you can reach the most famous squares and sights in a few minutes' walk.





Latest posts by Scuola Leonardo da Vinci Siena (see all)