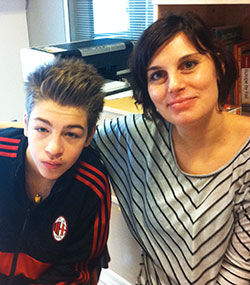 Questa settimana abbiamo avuto una bella novità: un gruppo di adolescenti di un liceo parigino!
Il nostro caro Roberto si è cimentato ogni mattina nel tenerli in classe, il più possibile tranquilli.
Ma le attività coinvolgenti non sono mancate e i ragazzi si sono divertiti!
Il pomeriggio poi hanno visitato la città e le principali attrazioni. Valentina li ha accompagnati e coinvolti: pare che la cosa che più li ha impressionati sia stata la statua di Boccioni vista al museo del novecento e ritrovata sulle monete italiane da 20 centesimi!
I ragazzi studiano italiano da poco tempo, Giovanni però fa eccezione. Figlio di padre abruzzese, se la cava eccome con l'italiano ed è quindi a lui che ho chiesto una breve recensione sull'esperienza milanese. Eccola qui:
Ciao io sono Giovanni sono un ragazzo di 15 anni. Abito a Parigi e sono studente al liceo Petit Champ  nel 11. Con la mia classe abbiamo passato 1 settimana  qui a Milano. Siamo andati a la scuola Leonardo Da Vinci e la mattina abbiamo studiato. La mia insegnante mi e piaciuta: perche e molta conviviosa. Gli studenti erano la major parte russi e svizzeri e tedeschi. Il pomeriggio siamo andati in giro per Milano. Abbiamo visitato il Duomo e il museo novecento dove si trovava le pitture di  Picasso. C'era anche la scultura la più importante del la storia del arte italiano. La nostra guida Valentina era de la scuola e spiegava bene. La cosa la più interessante per gli appassionati si calcio come me e il Milan mega store.FORZA BALLOTELI.
Le foto però come sempre raccontano più di quanto possano le parole 🙂
A presto!
Alessandra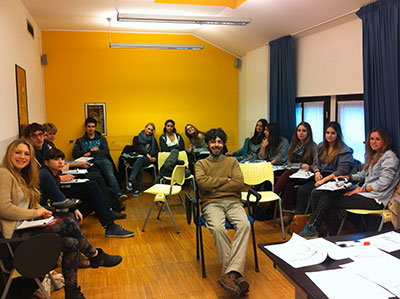 Scuola Leonardo da Vinci Milan is located in the city center in "Crocetta" district known for its liveliness, style and culture attractions.

Thanks to its prestigious universities and academies, Milan is the elected place of education for numerous Italian and international students.
Latest posts by Scuola Leonardo da Vinci Milan (see all)