Torna a Siena il Mercato nel Campo, sabato 5 e domenica 6 dicembre.
Troverete più di 150 banchi nella storica Piazza del Campo per poter apprezzare i migliori prodotti gastronomici e artigianali della città. Un tuffo nel Trecento tra storia e prodotti d'eccellenza.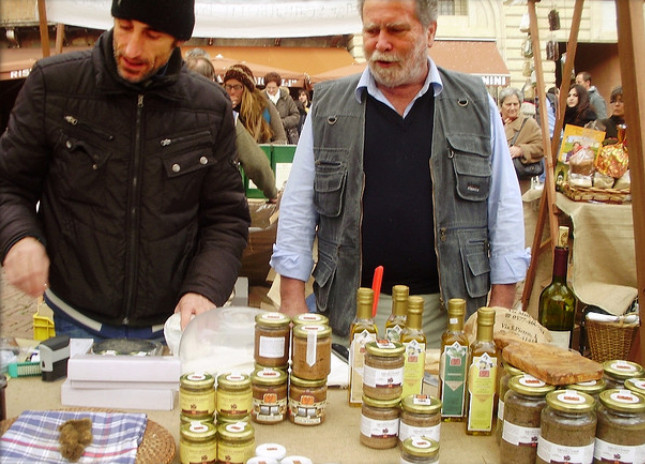 La particolarità di questo mercato è quella di rievocare il mercato grande che si svolgeva nel Medioevo. Saranno presenti le varie arti medievali: oreficeria, ceramica, lavorazione di pellame, sartoria, antiquariato, restauro, lavorazione di lane e tessili, vetreria, cristalli e ancora l'arte del forno in ogni sua forma, dal vino all'olio, dal caffè ai salumi, le birre, le cioccolate e i mieli. Ci sarà davvero di tutto e di più! Un lungo elenco di "arti e mestieri" frutto di antichi saperi e tradizioni artigianali.
Sarà poi presente un'altra iniziativa, chiamata "Vinarte – arte musica e degustazioni". Sarà aperta per il pubblico del Mercato nel Campo fino alle ore 22 e si troverà negli spazi sotterranei dei Magazzini del Sale, arricchiti per l'occasione da un percorso sensoriale tra degustazioni di pregiati vini del territorio senese e musica degli allievi di Siena Jazz e del Conservatorio Rinaldo Franci
Inoltre, nell'area di fronte al Palazzo Pubblico si potranno trovare laboratori agroalimentari dedicati a pane, pasta, formaggi e salumi, mentre nella zona del Casato di Sotto che si affaccia su Piazza del Campo verrà allestito un angolo dedicato ai mestieri e agli attrezzi agricoli, con laboratori anche per i bambini. A finire, le proposte "Dal Mercato nel Campo alla tavola – nutrendo il pianeta", con piatti legati alla tradizione gastronomica senese, che i cittadini offriranno al pubblico durante i due giorni.
Anticipazioni ed approfondimenti sui temi e sul programma saranno disponibili giorno per giorno fino al 6 dicembre su Facebook "Siena - Mercato nel Campo"e su Twitter @mercatonelcampo
Glossary
oreficeria = goldsmithry
ceramica = pottery
pellame = leather goods
sartoria = tailoring
restauro = restoration
tessili = textile
vetreria = glass art
arti e mestieri = arts and crafts
drappellone = palio banner
attrezzi agricoli = agricultural tools

The Scuola Leonardo da Vinci is situated in the Heart of the Old City of Siena, just a short walk from the famous Piazza il Campo. From our school you can reach the most famous squares and sights in a few minutes' walk.





Latest posts by Scuola Leonardo da Vinci Siena (see all)