10 Reasons to study in Siena at the Scuola Leonardo da Vinci
1 - Siena is a wonderful walking city.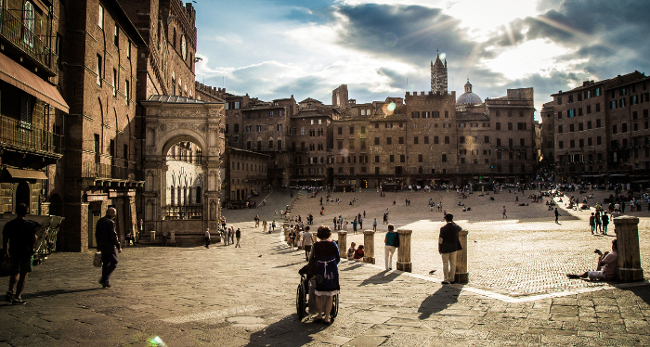 The gentle hills provide a pleasant bit of exercise as well as breath-taking views of the countryside from every twist and turn. The Scuola Leonardo da Vinci is centrally located within the ancient walls. Students also reside in the historic centro within walking distance of Siena's many cultural delights.
2 - Siena is a city built on a "human" scale.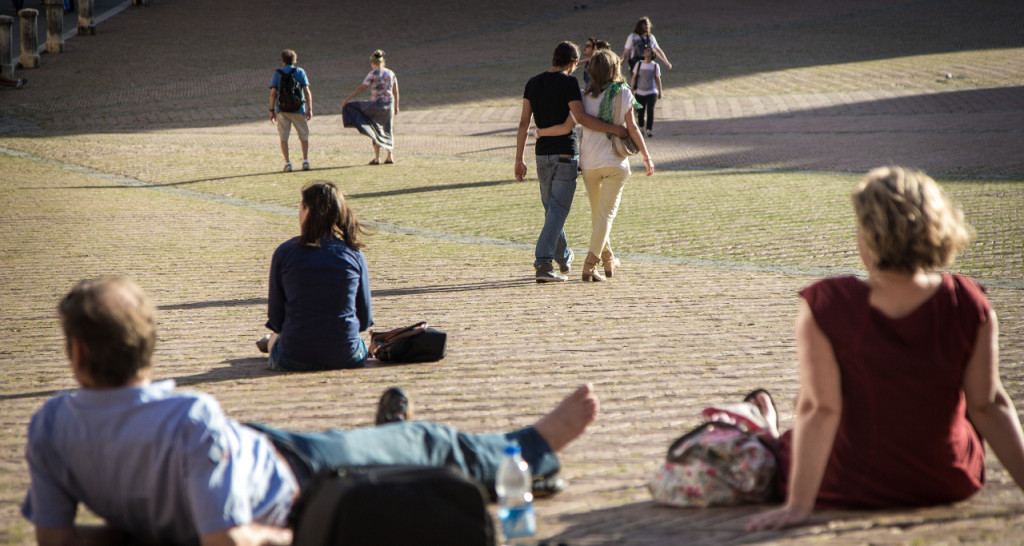 Almost all the city's monuments and cultural events are found within the medieval walls, making it easy and convenient to find restaurants, cafes, shops and art treasures all within a 15 or 20 minute walk. La Scuola Leonardo da Vinci is located on a picturesque side street right in the city's historic center.
3 - Siena is safe.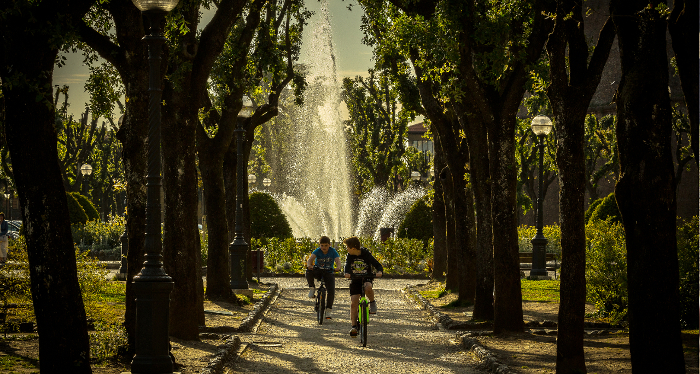 If you are a woman traveling alone or even with friends safety is always a concern. Siena is one of the safest cities in Italy in which to live and study. The Scuola Leonardo da Vinci personally oversees its list of host families, apartments and residences. It is happy to help its students find safe and convenient accommodations.
4 - Siena is great for learning Italian.
In a small city it doesn't take long before a shop owner or the barista of your local cafe' begins to recognize you and make conversation. Your language lessons at the Scuola Leonardo da Vinci are geared toward getting you to communicate as soon as possible. Your lessons and local interactions will get your Italian off and running.
5 - Siena is an art-lover's dream.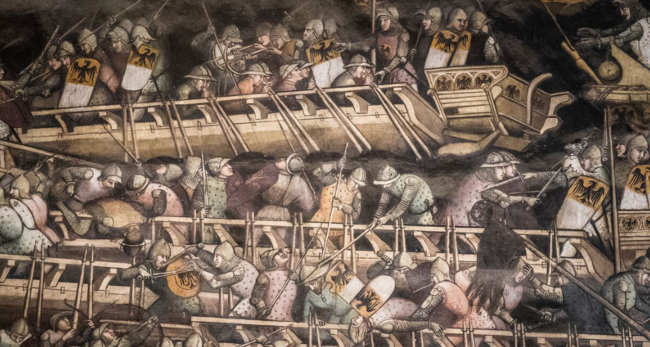 Sienese art occupies an important place in art history and is continuously studied for the brilliance of its artists and its influence on the Renaissance. The Scuola Leonardo da Vinci has its own resident art specialist who will guide you through churches, palaces and museums.
6 - Siena is a photographer's dream.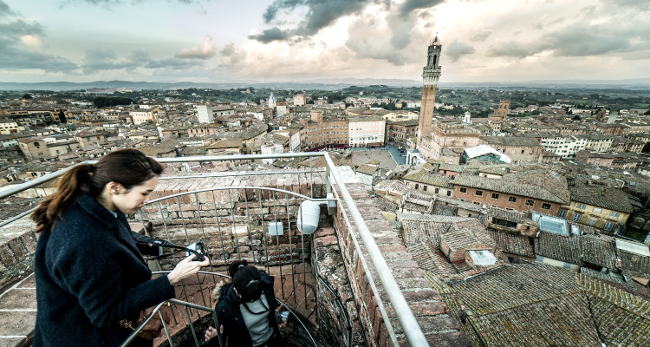 The city is photogenic at every angle and if you enjoy taking photos, you are in the right place! The surrounding countryside is also gorgeous and to help you get to know it the Scuola Leonardo da Vinci provides weekday and weekend excursions that take you beyond the walls to other culturally significant places in the area.
7 - Siena fosters new friendships.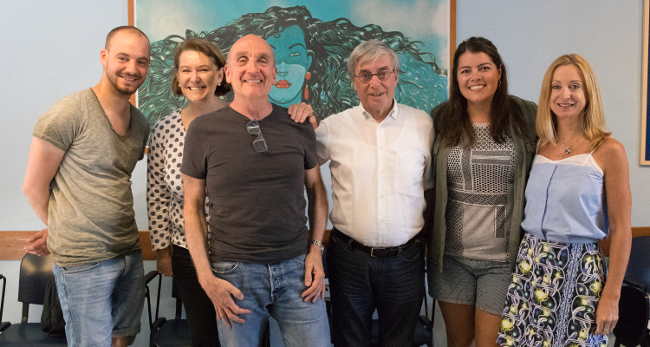 La Scuola Leonardo da Vinci provides the classroom experience, instructional support and ambiance that are perfect for forming new friendships. Students are all ages and come from every country imaginable. Everyone is learning Italian so everyone has at least one important thing in common. Language study is an amazing ice-breaker. Not only have many long-term friendships developed at the school, but even some marriages!
8 - Siena is a culture-lover's dream.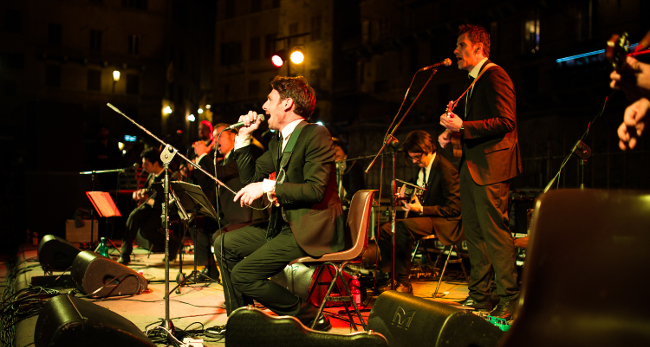 Being an important university town and site of a world-class music academy, Siena is often host to academic meetings, lectures, concerts and cultural programs that are open to the public. It is also the site of the Siena Jazz Festival and classical music concerts in its beautiful recently restored 16th century Teatro dei Rinnovati. The staff and instructors at the Scuola Leonardo da Vinci are well informed about the cultural happenings in the city. Such events are publicized for the benefit of all students.
9 - Siena's environment is calm yet stimulating.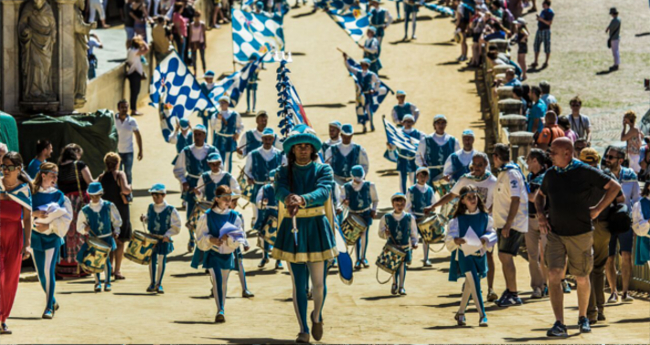 If you need to find tranquility during your study experience, Siena is the right city. You might take a long walk or sit in one of the beautiful public parks in order to contemplate and absorb your most recent lessons. If you need more action, however, Siena is also great for joggers, bike-riders (including a new bike-share program) and night-spot seekers. To encourage your get-out-and-do side, the Scuola Leonardo da Vinci offers bike tours of Chianti and other nearby scenic areas.
1o - Siena is a food-lover's dream.
Sienese cuisine is hearty, with meats and sauces being a specialty. You will also find much vegetarian fare at restaurants,though, including the famous ribollita which involves many different sorts of vegetables and a slow-cooking process. Local wines such as Brunello and fabulous sweets such as the ricciarelli almond cookies top off a meal. The Scuola Leonardo da Vinci offers tastings and talks on the preparation of and appreciation for Sienese cuisine.
Photo by @VelvetJackFrancio

The Scuola Leonardo da Vinci is situated in the Heart of the Old City of Siena, just a short walk from the famous Piazza il Campo. From our school you can reach the most famous squares and sights in a few minutes' walk.





Latest posts by Scuola Leonardo da Vinci Siena (see all)