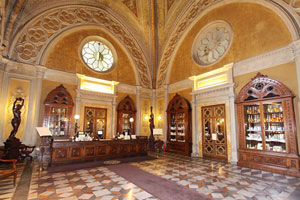 Medicamenti, balsami e pomate. Li producevano un tempo i frati dominicani con le erbe officinali dei loro orti. Si posso acquistare ancora oggi allo storico negozio di Santa  Maria Novella.
Profumo di storia e tradizione, ma anche di benessere e bellezza. Le erbe officinali, da sempre sapientemente utilizzate dai frati domenicani per creare unguenti e balsami, ancora oggi possono trasformarsi in una piacevole occasione di shopping.
Accade a Firenze, presso il Museo dell'Officina Profumo - Farmaceutica di Santa Maria Novella. Si tratta di una tra le più antiche farmacie del mondo, le cui origini si perdono nel tempo e arrivano addirittura al 1221 quando venne costruito il convento dei frati domenicani alle porte di Firenze.
La farmacia conserva intatti gli arredi costruiti nel corso del tempo. Il salone di vendita fu trasformato nel 1848 da Domenico Beni, che mantenne la volta gotica della preesistente cappella donata nel 1335 dalla famiglia Acciaiuoli ai frati. Il salone è arredato con scaffali in stile neogotico. Alle pareti gli affreschi di Paolino Sarti celebrano il fasto delle farmacie nel mondo
Non mancano poi le specialità alimentari come cioccolate e composte di frutta. Da provare i sassolini di liquirizia e le gelatine al liquore. Tutte deliziose idee regalo. Naturalmente gli acquisti avverranno in un'atmosfera intrisa di bellezza e cultura.
Il loro cavallo di battaglia da 400 anni? Il pot-pourri, unico ed inimitabile
Il negozio/museo si trova in via della Scala 16 ed è aperto tutti i giorni con orario continuato dalle 9,30 alle 19,30.

The Scuola Leonardo da Vinci is situated in the Heart of the Old City of Florence near Piazza del Duomo. From here you can reach the most famous squares and sights in a few minutes' walk.





Latest posts by Scuola Leonardo da Vinci Florence (see all)