Ieri sera a Milano c'è stata una grande serata di lezione di cucina italiana by night da Gianni,
cuoco e macellaio di grande esperienza che con competenza e simpatia ci aiuta spesso ad organizzare feste e grigliate per la nostra scuola di Milano.
L'occasione è stata la presenza del nostro studente Geoffry, appassionato conoscitore della cucina italiana e con l'hobby della cucina nella sua Inghilterra.
Geoffry si è cimentato nella preparazione di uno dei più tipici piatti della cicina milanese, il risotto giallo con l'ossobuco in gremolada.
Il risotto giallo, cucinato con brodo e zafferano, tipica spezia di cui l'Italia è produttore di nicchia, è stato affiancato dall'ossobuco condito con acciughe, prezzemolo
e scorza di limone, la cosiddetta "gremolada".
Risultato eccellente, atmosfera conviviale e allietata da vini rossi di qualità e dalla chitarra di Leo Sardo e una bvellissima compagnia hanno fatto di
questa serata un'altro grande evento della Scuola Leonardo da Vinci Milano.
Nella foto il grande Gianni e il nostro Geoffry, felici per il loro piatto perfetto.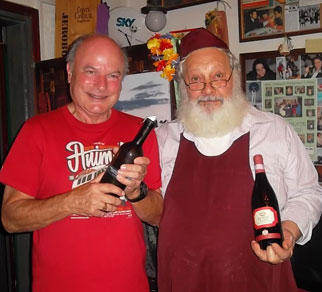 Scuola Leonardo da Vinci Milan is located in the city center in "Crocetta" district known for its liveliness, style and culture attractions.

Thanks to its prestigious universities and academies, Milan is the elected place of education for numerous Italian and international students.
Latest posts by Scuola Leonardo da Vinci Milan (see all)