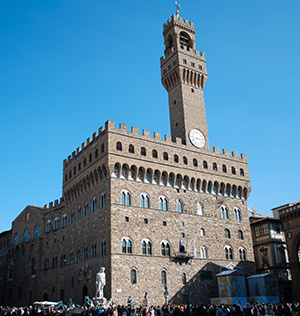 Il fine febbraio siamo arrivate a Firenze, 5 ragazze ungheresi di passare 3 mesi nella cula della lingua e cultura italiana.
Siamo venuti per un tirocinio, nelle scuole di lingue diversi, nell'ambito del programma di Leonardo da Vinci, organizzata dal EU.
E mentre cerciamo di essere utili al posto di lavoro, e imparare la lingua, facciamo tutto di conoscere i tesori della cittá.
É interessante che poi che ero arrivata, tra poco ho avuto una idea della cittá. Ho avuto un sentimento. Ve lo racconto come é succeso perché mi ricordo proprio:  mentre camminavo accanto alla Piazza Repubblica, sotto i portici, mentre pioveva e un gruppo suonava una musica dolce, ho pensato: che Firenze é come una signora anziana elegante. E come i pensieri che nascono dagli impressioni sentimintali, questo pensiero é rimasto e secondo me giá rimarrá sempre dentro di me.
Vedo  tutti i giorni questa cittá davanti di me, questa donna anziana, che ha un passato di cui puo essere orgogliosa. Vedo i suoi diamanti: il Duomo con il Battistero e Campanile,il Palazzo Vecchio,  l'Uffizi, il Ponte Vecchio, la chiesa di Santa Maria Novella, il Palazzo Pitti con il Giardino di Boboli...e adesso scusatemi perché é impossibole di elencare tutto, ma in futuro tocca anche a piú.
Ma vedo anche altre cose, vedo le sue righe:  le pietre dove si cammina, i palazzi che ci fanno ricordare di un tempo dove l'intelligenza, l'arte, il cervello, la bellezza aveva importanza, aveva valori. Erano valori.  E vedo la sangue della cittá:  l'Arno che é o calma o indisciplinata, e ogni tanto si é ribellato e quasi si é distrutto.
Non sono purtroppo storica dell' arte, allora vi faccio vedere tutto con i occhi di una ragazza giovane, europea, cuirosá e penso che sono qui perché voi:  di conoscere una cultura.
Ma una cosa subito posso consigliarvi: quando camminate sulle strade di Firenze, lasciate i libri turistici e ascoltate cosa racconta la cittá.
Peri chiudere il primo articolo di una seria che progetto scrivere della cittá chiuederei con la mia preferitá:
Tutte le mattine andando a scuola devo scendere dall' autobus al ponte di S.Trinitá. E mentre sto camminando sul questo ponte meraviglioso, con una storia tristissima, perché durante é la seconda guerra, in 1944, i tedeschi l'hanno distrutto.
E mentre camminavo su questo ponte protetto dai 4 stagioni: vedo il Ponte Vecchio.
In passato sempre ho visto il Ponte Vecchio sulle cartoline, e ancora non sono abituata vederlo ogni giorno.
Mi sento sempre come se fossi in un film misterioso, magico. Non sembra vero.
Nel secondo parte del articolo vi scriveró un pó dei segreti di Ponte Vecchio.
Ma sarei felice se anche voi scriveste com'é la vostra impressione della cittá...
Aletta Magyar

The Scuola Leonardo da Vinci is situated in the Heart of the Old City of Florence near Piazza del Duomo. From here you can reach the most famous squares and sights in a few minutes' walk.





Latest posts by Scuola Leonardo da Vinci Florence (see all)