Ieri pomeriggio abbiamo organizzato un  laboratorio creativo a Scuola. In occasione della Pasqua in arrivo, un gruppo di studenti ha decorato piccole uova di polistirolo con colori e adesivi. Ognuno ha scritto Buona Pasqua nella propria lingua e usato molta creatività.
E' stata un'ottima occasione per divertirci tutti insieme prima delle vacanze di Pasqua. Vi ricordiamo infatti che la Scuola resterà chiusa lunedì 28 marzo (giornata di Pasquetta).
A questo proposito, ecco qualche consiglio su come trascorrere questa giornata a Milano. Presso la Chiesa di Sant'Angelo, vicino alla metro Turati, ci sarà la storica Fiera dell'Angelo: una schiera di bancarelle e un mercatino di piante e fiori da visitare con gli amici.
Se amate la natura invece, vi consigliamo di visitare l'Orto Botanico di Brera, un giardino meraviglioso nel cuore della città che potrete visitare per la Caccia al tesoro botanico: evento per grandi e piccoli dalle 2 del pomeriggio. Un'altra opzione interessante è una giornata al lago di Como a soli 40 minuti dalla città con il treno dalla stazione di Cadorna.
Como è un'ottima località per trascorrere un giorno festivo passeggiando nel centro, in riva al lago oppure conoscendo la parte alta della città con la funicolare fino a Brunate.
A voi la scelta dell'itinerario 🙂 e Buona Pasqua da tutto lo Staff della Scuola Leonardo da Vinci!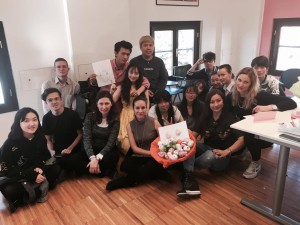 Scuola Leonardo da Vinci Milan is located in the city center in "Crocetta" district known for its liveliness, style and culture attractions.

Thanks to its prestigious universities and academies, Milan is the elected place of education for numerous Italian and international students.
Latest posts by Scuola Leonardo da Vinci Milan (see all)