We know that the term Dolce Vita and everything that refers to it originates from the marvelous and iconic film that Fellini set in Rome, with Mastroianni, Anita Eckberg and the paparazzi.
Rome was the perfect setting given the concept of life that we Romans appreciate as we carry out daily lives against the backdrop of the Grande Bellezza.
We also know that the film led to mean Dolce vita as a specific type of lifestyle, carefree and light-hearted and universally identified with the classic Italian style of life.
Through this lens, anyone can apply it to their life in any other city, not just Rome. Do we all not want to experience the joy of living while sharing carefree moments with dear friends?
Still, if you ask us what city would be the perfect classroom for the Dolce vita, to be immersed and fully experience the carefree life described in the film, to retrace its places, monuments and experience all their Beauty (with a capital, our answer would be Rome. And it is possible for you to do so through our course in Rome.
As in a film or a theatre set or even in real life! You will "be on stage" as protagonists. To support you, we have our talented teachers of Italian language and art history️, cooks and wine experts, directors who will lead you on to iconic scenes, and famous paparazzi who will tell you real stories.
And because we Romans like to overdo it, a photographer will be with you to teach you how to best immortalize your memories. We have thought of everything to make you feel good and joyfully live out your experience of our course with us.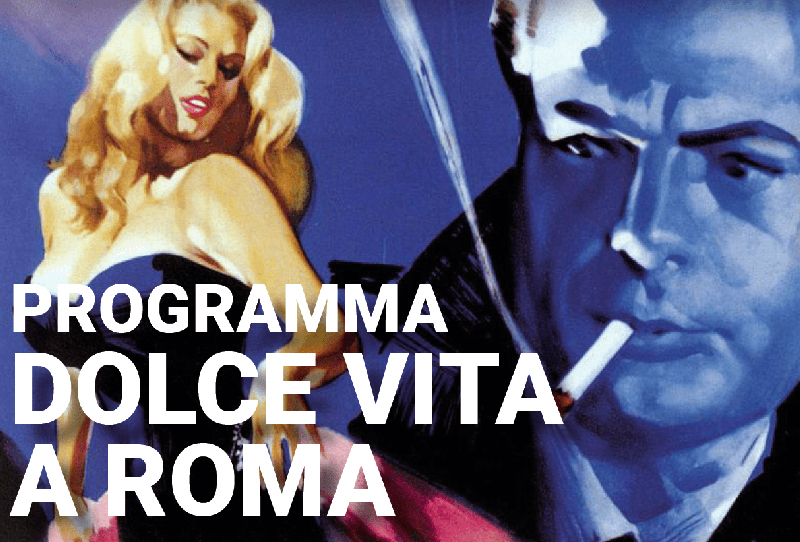 La Dolce vita e la gioia di vivere… a Roma
Sappiamo che il termine "Dolce vita" e tutto ciò che si riferisce ad esso è originario del meraviglioso e iconico film che Fellini ha ambientato a Roma️, con Mastroianni, Anita Eckberg e i paparazzi. Roma è stata la cornice perfetta visto il concetto di vita che noi romani apprezziamo mentre svolgiamo quotidianamente sullo sfondo della Grande Bellezza.
Sappiamo anche che il film ha portato a significare Dolce Vita come tipo di stile di vita specifico, spensierato e dal cuore leggero e universalmente identificato con il classico stile di vita italiano. Attraverso questa lente, chiunque può applicarla alla propria vita in qualsiasi altra città, non solo Roma. Tutti noi non vogliamo provare la gioia di vivere condividendo momenti spensierati con cari amici?
Eppure, se ci chiedete quale città sarebbe l'aula perfetta per la Dolce vita, da immergere e vivere appieno la vita spensierata descritta nel film, per ripercorrere i suoi luoghi, i suoi monumenti e vivere tutta la loro Bellezza (con la B maiuscola), La nostra risposta sarebbe Roma. Ed è possibile farlo attraverso il nostro corso a Roma.
Come in un film o in un teatro o anche nella vita reale! Sarete protagonisti sul palco
Per sostenervi abbiamo i nostri bravissimi insegnanti di lingua italiana e storia dell'arte, cuochi ed esperti di vino, registi che vi guideranno sulle scene iconiche, e i famosi paparazzi che vi racconteranno storie vere.
E perché a noi romani piace strafare, un fotografo sarà con te per insegnarti ad immortalare al meglio i tuoi ricordi. Abbiamo pensato a tutto per farvi stare bene e vivere con gioia la vostra esperienza del nostro corso con noi.

City of God, the Sacred City, the City of the Seven Hills or simply… Rome!

The Eternal City has known it all. Victory and defeat, joy and tragedy, glory and humility marked Rome's history, culture and architecture. A magical place with vibrant, timeless lifestyle with countless secrets waiting to be discovered.

The Scuola Leonardo da Vinci is situated in the centre of Rome, in the pedestrian area, halfway from the astounding Piazza Navona, Castel S. Angelo and St. Peter Basilica. It is one of the largest schools in Rome.

We, from Leonardo da Vinci School have one mission – to introduce you to this exciting urban symphony. Every year thousand of students from more than 90 countries jump into this adventure hand in hand with us. Leonardo da Vinci School is not only leading language institute, but centre of Italian culture and lifestyle. We match our vast experience with our student' eagerness to know and learn and together we make it happen.





Latest posts by Scuola Leonardo da Vinci Rome (see all)