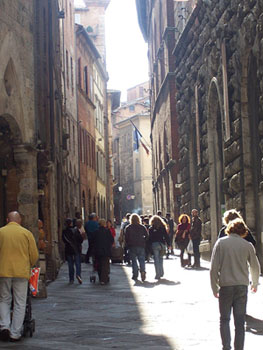 Shopping is something people love to do in Italy. The Italians are known as being fashion-conscious and this is shown in the shops! The staff are all very helpful and tend to give you a lot of advice on colours, styles, etc. If you are not too keen to spend money, window shopping is always enjoyable. The windows are dressed well and always seem to catch your attention.
There are quite a few shops in Siena, with Banchi di Sopra being the main street for larger shops selling clothes, shoes, books and loads more. In other streets there are also many other shops and boutiques, for example Via di Città and Via dei Montanini. You will find almost anything you need in the shops in the centre of Siena, from food, wines, gifts and art work to clothes, shoes and house ware.
For clothes, you will find some of the big names in Siena, such as Sisley, United Colors of Benetton, Foot Locker and Stefanel. There are a few underwear shops, two Feltrinelli bookshops for all your study needs (one of them even has English books!) and even a couple of shops where everything is a Euro! And you thought the pound shop at home was good value for money!!! If you want larger chains such as Zara and H and M, Florence of Bologna are not too far away by train or bus!
For a good bargain, there is always the market, held every Wednesday morning at La Lizza, by the Fortezza. There are plenty of stalls to choose from, selling a range of things such as clothes, kitchen utensils and crockery, underwear, shoes, and some fresh fruit and veg!

The Scuola Leonardo da Vinci is situated in the Heart of the Old City of Siena, just a short walk from the famous Piazza il Campo. From our school you can reach the most famous squares and sights in a few minutes' walk.





Latest posts by Scuola Leonardo da Vinci Siena (see all)