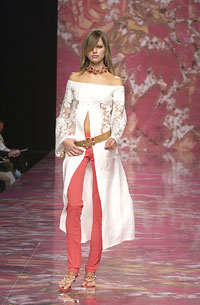 After four days of runways, Milano Moda Uomo (Autumn/Winter 2009-2010) ended on January 20th and already the whole world has started the countdown for the Woman Milan Fashion Week which will be from February 25th to March 4th. In this particularly scary moment regarding the world's economy situation, it should be noted that fashion "made in Italy" continues to grow with a 15% increase in exports in the last 6 months. The reason is simple: you can give up almost anything (new car, bigger apartment, trips, etc.) but you will not renounce on being elegant and trendy. You will ask your selves, why? It is simple, and it makes you feel better.
This years program is bigger than ever, with new, young fashion designers trying as always to put their names and their collection in front of buyers and fashion experts who will be coming from all over the planet, while big names are planning and organizing glamorous parties and receptions, all strictly reserved for VIP guests.
The whole city transforms itself; the streets are full of people from morning till late at night and it is almost impossible to find a room in a hotel or to book a table for dinner. The time becomes too short because there are so many things to see and places to go to. What a perfect time of year to be in Milan!
And while you are here, why not participate in Scuola Leonardo da Vinci's Italian preparation course for Fashion Shows. The course is extremely practical and it will give you a chance to meet people from the design and fashion field. Lessons are taught by professionals and university teachers, and are supported with 20 hours of fashion-oriented visits to show rooms, fashion shows, fashion magazines, and other events that will be happening in Milan at the time.
Grab the chance and book this course now! !
Scuola Leonardo da Vinci Milan is located in the city center in "Crocetta" district known for its liveliness, style and culture attractions.

Thanks to its prestigious universities and academies, Milan is the elected place of education for numerous Italian and international students.
Latest posts by Scuola Leonardo da Vinci Milan (see all)