Si avvicina Natale 2013 e, dopo il grande successo dell'anno scorso, anche quest'anno proponiamo a  tutti gli amici della Scuola Leonardo da Vinci il nostro calendario dell'avvento.
L'idea è quella classica: un percorso con 24 finestrelle,  una al giorno, per arrivare insieme alla scuola Leonardo da Vinci al giorno di Natale condividendo notizie, curiosità, informazioni sulle tradizioni natalizie italiane e ... soprattutto, tanti regali pensati proprio per chi ama l'Italia, la sua lingua e la sua cultura.
Quest'anno le sorprese che vi abbiamo riservato e che si nascondono dietro le finestre del nostro calendario sono più ricche del solito e, siccome ci sentivamo particolarmente buoni  🙂 , abbiamo deciso di farvi un incredibile regalo finale.
Chi ci seguirà in questo percorso dell'Avvento partecipando quotidianamente all'apertura delle finestre e lasciandoci i suoi dati all'indirizzo scuolaleonardo@scuolaleonardo.com, parteciperà all'estrazione finale di un premio sorprendente: un soggiorno di 2 settimane comprendente corso di lingua e tassa di iscrizione presso una delle nostre sedi di Firenze, Roma, Milano e Siena.
Ecco nel dettaglio come fare per partecipare:
Seguici quotidianamente aprendo la finestrella abbinata al giorno, lasciaci un commento su facebook, condividi, fatti sentire e scrivici: basterà mandare una mail all'indirizzo scuolaleonardo@scuolaleonardo.com. Nell'oggetto scriverai "concorso calendario dell'avvento 2013" e nel testo del messaggio ci lascerai i tuoi dati.
A conclusione del percorso, fra tutti i nominativi lasciati durante i ventiquattro giorni che precedono il Natale, ne estrarremo a sorte uno che sarà il fortunatissimo vincitore di un soggiorno di due settimane (corso di lingua italiana e tassa di iscrizione) da frequentare in una delle nostre sedi a scelta fra Milano, Firenze, Roma e Siena.
Allora siete pronti? Il calendario, come da tradizione, si aprirà con la finestrella del 1° dicembre, che quest'anno cade di domenica, quindi mettete la sveglia e venite a cliccare!!!
Che dire di più, noi vi aspettiamo, come sempre, tanti ed entusiasti, e ricordate che per qualsiasi domanda sulla nostra scuola, i corsi, le modalità di partecipazione al concorso, siamo sempre a vostra disposizione, potete scriverci a scuolaleonardo@scuolaleonardo.com e saremo lieti di rispondervi al più presto.
---
Christmas 2013 is coming! After the great success of last year, once again we want to propose our Advent Calendar to all Scuola Leonardo da Vinci's friends.
The project follows the classic Advent calendar structure: everyday before Christmas, you will have to open one of the 24 different windows.
Behind every window you will find news, gossips, information about Italian traditions and...Lots of gifts designed for those who love Italy, its language and culture.
This year, the surprises we hid for you behind our calendar windows are richer than usual and, since we felt particularly good this year :-), we decided to give you an amazing final gift: a two-weeks stay including Italian language lessons and registration fee in one of our schools located in Florence, Rome, Milan and Siena.
In order to take part in the final draw, follow us daily and open the window according to each day, leave us a comment on Facebook, share and write to us: just send an email at scuolaleonardo@scuolaleonardo.com. In the object, remember to write "Competition Advent Calendar 2013" and in the message test leave your personal information.
At the end of the course, we will draw a winner among all contacts we received. The lucky one will win a language travel (Italian language course and registration fee) choosing one of our locations in Milan, Florence, Rome and Siena.
Are you ready? As tradition goes, the first window of the Calendar will be open on December, 1st (a Sunday), so set up your alarm clock and start to click!
What's more? We wait for you! And remember, if you have any questions about our schools, courses and our contest, we are always at your disposal, you can write to us at scuolaleonardo@scuolaleonardo.com and we will be glad to answer as soon as possible.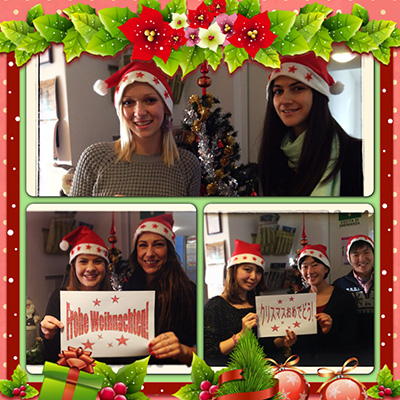 Italian Language Schools and Courses in Italy.
Learn Italian in Italy in Florence, Milan, Rome, Turin and Viareggio




Latest posts by Scuola Leonardo da Vinci (see all)