The two weeks I've spent in Milan were probably my best two weeks abroad. Unfortunately, I couldn't stay longer because of school in Croatia and that's the only thing I regret. However, even in only 14 days , there happened a looot of interesting things that I'll share with you and therefore perhaps encourage you to come to Leonardo da Vinci school in Milan.
THE CITY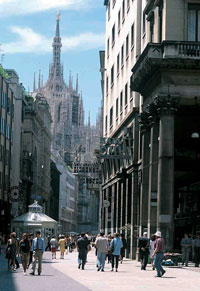 First of all, Milan is beautiful. There are not as many monuments as in Rome or Florence, but it definitely has its vibe and soul. It's the Italian centre of economy and business, and while walking through its streets I always felt like a diva, but also like a well-assimilated citizen. To be honest, before I came here, I had always thought of Milan as not really interesting and snobbish city in which "ordinary" people such as me have no business poking their nose there.
However, the combination of some extremely splendid monuments (Duomo, Castello Sforzesco), shining shops and nice, always willing to help people, changed my mind by the first day I got there.
My host family also helped me to feel comfortable and welcome. I miss them so much, and if anyone doubts about choosing lodging in a family or in an apartment, I would definitely recommend to choose the family. I had only good experiences with them. In addition to this, by being in a family one can see how the real Italian people live – how their days look like, what they do in their free time, their habits and a lot more. I found it really interesting and helpful in creating my opinion about Italy. Of course, it becomes better and better by every new trip to this beautiful country.
SCHOOL
Located in Navigli zone, famous for the similar river nearby, along which there are situated numerous, small, well-decorated restaurants and lounge bars, the Leonardo da Vinci school offers students a lot of opportunities to have fun. Modern interior design, colorful classroom doors with their own names and a pleasant atmosphere is what immediately makes you feel relaxed and ready to learn plenty of new facts about Italy and, of course, improve your Italian in a fun, fast, simple and productive way.
The first day I just barely managed to get up in time, which was 8:30 am, and then I went to the school. There I met Dario, a likable and approachable receptionist who patiently answered tons of my e-mails (overflowing with hundreds of questions about paying, accommodation , city ,classes...). I've sent him the week before I came. It was funny meeting the "famous" Dario, and the following two weeks he was, along with Gessica, my primary resource of information about the city and the events.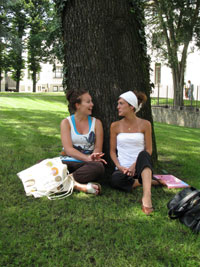 Then I wrote an exam and had a conversation with Roberto who decided to put me in B2/2 group. My classroom was the one with green door named "Design" and my professor was Claudio – a great teacher as well as a person, whose lessons were always interesting and dynamic. We laughed most of the time, the jokes told were just hillarious. But we also did a lot of grammar, did many exercises, discussed about politics, economy and current world problems. So the lessons were really well-organized, as one can see. We actually did a serious "job", but at the time it didn't seem like that at all, because it was filled with interesting and motivating conversations. Another thing I found useful for broadening my horizons was the ethnical diversity between the people in the group. We were all girls from all parts of the world – Serbia, Montenegro, Turkey, Netherlands, Russia, Bulgary, Germany, Azerbaijan, Polland, Brazil... I also made some good friends there, and I'm still in touch with the girls from Serbia, Montenegro and Russia.
FREE TIME
Of course, I have to mention the most amusing part – nightlife. Going out in Milan is certainly something I'll never forget. I was fascinated by the "aperitivo" nights, because I paid 8 euros for a coctail and ate as much as I wanted, or could. For me, who is a true gourmet, that was simply marvelous. Then, there is clubbing. Unfortunately I didn't have enough time for exploring all types of clubs, such as jazz or alternative ones, but I can say that clubs with actual house and r'n'b music are great places where one can spend unforgettable time. People are approachable and one can almost smell the party vibe, so having fun is guaranteed. My 12th day in Milan I went with school to Club11 due to Russian week which was organized by Erasmus agency. I had so much fun there, people and atmosphere were crazy, in a positive way. Unfortunately, I had to have my luggage packed the day after and prepare myself psychically for returning to Croatia. I was terribly sad during my last day at school, my chest hurt, because everything passed so fast. I saluted my girlfriends from the group and the school crew and went to Piazza del Duomo one last time. It was around 6 o'clock and the night had fallen. I stood in front of Duomo, admiring it. Huge, blazing, magnificent, powerful. With its 3500 statues it pierced the black sky. Truly, a scene to remember.
CONCLUSION
So, whoever thinks about coming to this language school in Milan, all what can I say is – come and have the best time of your life with great teachers and interesting people from the whole world!
Ines Pandzic
---
For more information about studying Italian in Milan visit: Scuola Leonardo da Vinci in Milan or request information to our offices.
For more information about the city of Milan visit: About Milan, travel guide about Milan
Scuola Leonardo da Vinci Milan is located in the city center in "Crocetta" district known for its liveliness, style and culture attractions.

Thanks to its prestigious universities and academies, Milan is the elected place of education for numerous Italian and international students.
Latest posts by Scuola Leonardo da Vinci Milan (see all)