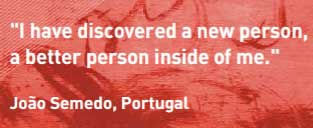 The Homeless World Cup is coming to Milan!
The Homeless World Cup is an annual, international football tournament, uniting teams of people who are homeless and excluded to take a once in a lifetime opportunity to represent their country and change their lives forever.
We are looking for 500 special people to help make the Milan 2009 Homeless World Cup the best ever.  If you are enthusiastic with a passion to create change and make a difference, or if you are passionate about the power of football to unite, or the grit, spirit and glory of football, you will love being part of the Homeless World Cup.  Bring your spirit of co-operation, your skills and talents and create an unforgettable event for everyone involved.
Mel Young, President of the Homeless World Cup, says: "We would love to invite Milan to really get behind this global football tournament changing the world.  To the people of the city come and watch, come and volunteer. We'd like to invite partners and sponsors, football clubs and players media to get behind the Milan 2009 Homeless World Cup and show the world Milan's contribution to the power of football to change lives."
Dates needed: 4th – 15th September
Venue: Arena Civica, Sempione Park and other locations in and around the City of Milan
Volunteer Requirements: Need to be fluent in Italian and English (other languages a bonus); in Milan during the above period; and ideally have a good knowledge of how to get around Milan.
What is offered: Reimbursement for daily travel expenses to and from the event venue; lunch; opportunity to be part of a life changing and inspiring global event.
What we need:
Names of people who are willing to volunteer along with their contact details and availability
Names or organisations / individuals who can help us to find volunteers in Milan for us
Contact: Anyone who can help please email: volontari@milanomyland.org
Or write directly to Scuola Leonardo da Vinci at: milan@scuolaleonardo.com
The Homeless World Cup has triggered and supports grass roots football projects in over 60 nations working with over 25,000 homeless and excluded people throughout the year. The impact is consistently significant year on year with 73% of players changing their lives for the better by coming off drugs and alcohol, moving into jobs, education, homes, training, reuniting with families and even going on to become players and coaches for pro or semi-pro football teams. For more information (including about volunteer roles) visit: www.homelessworldcup.org.
"To open and to kick off the Homeless World Cup is a poignant moment for everyone.  For all the players involved standing proud to represent their country and take courage to change their lives.   And for sport as it demonstrates that grass roots soccer can change lives, change the world.  I'm delighted to be involved in this sporting event, and invite you all to get into the Homeless World Cup!"

Eusébio da Silva Ferreira
Scuola Leonardo da Vinci Milan is located in the city center in "Crocetta" district known for its liveliness, style and culture attractions.

Thanks to its prestigious universities and academies, Milan is the elected place of education for numerous Italian and international students.
Latest posts by Scuola Leonardo da Vinci Milan (see all)