Ecco la lettera che ci ha inviato Manabo Uchida, allenatore di calcio, che ha studiato italiano presso la nostra scuola di Milano e ha avuto modo di incontrare la squadra del Chievo Verona e confrontarsi con il suo Coach.
"My name is Manabu Uchida, I am  UEFA A licensed Football Coach.
I have determined to study Italian because I would like to experience and know Italian football and culture. The reason why I chose Scuola Leonardo Da Vinci in Milan is their teaching method.
There are 2 lessons and the duration of each lesson is 1 and half hour. The basic study processes are we study mainly grammar and vocabulary and after the break we try conversation with the grammar and vocabulary what we studied during the first lesson.
My teacher had a nice and unique method to talk to us and we also did a lot of pair work to communicate each other therefore I felt that was a great way to improve my Italian skill.
Any language is difficult to study however, the teaching method of Scuola Leonardo Da Vinci makes their students enjoyed and improved on their Italian.  I think their way is creating a good style for studying.
I have improved on my Italian language with the above method therefore, I could talk to the coaches and team stuff in Italian at Chievo Verona when I visited them.
I have visited A.C Chievo Verona (Serie A team) thanks to  Scuola Leonardo Da Vinci in Milan.
I have worked for about 6 years as a coach in the U.K Then I have started wondering how the other European football then I chose Italy and then have started studying Italian language at Scuola Leonardo Da Vinci.
I was given a great opportunity to meet and talk to their coach who is Giuseppe Sannino. I could ask him about the difference between Serie A and Serie B, how to manage players also, how to manage young players like youth players etc...
In addition, I was allowed to see their training although the training was closed. They were training for their match to play against A.C Milan on the day.
Italian coaches are considered quite picky about strategy therefore as I saw Mr, Giuseppe often stopped the sessions to coach the players to check many times.
Football style is really different depends on countries. I have worked in the U.K therefore, I have some particular perceptions with English way for football. However, it was a great experience to see their way of training and concept.
I would like to thank to Scuola Leonardo Da Vinci  who contributed to make this opportunity for me."
Manabu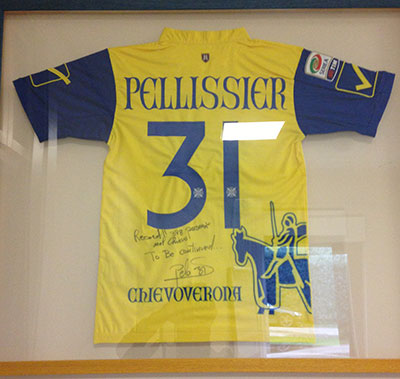 ヨーロッパサッカー協会公認 A級ライセンスコーチ 内田 学
私はイタリアサッカーやイタリア文化を経験するためにイタリア語の学習を決意しました。
そんな中、スクオラ・レオナルド・ダヴィンチを選んだ理由は学習プロセスでした。
最初の1時間30分の授業では主に文法や語彙を増やし、休憩後の残りの1時間30分のレッスンで会話やリスニングを実践して
いくというのが基本のプロセスでした。
授業の中では先生がユニークな方法で生徒に話かけ、会話を楽しみまた生徒同士でも共同作業で色々な問題を解いてゆく等
お互いのコミュニケーションを図るには最適の方法だと感じました。
そういった中で私のイタリア語は上達してゆき、今回訪問したセリエA キエーボ・ベローナでも、そのイタリア語を使い監督やコーチ、チームスタッフの方達と会話する事ができました。
どの言語も習得は簡単ではありませんが、スクオラ・レオナルド・ダヴィンチの学習プロセスは生徒のやる気を引出し、上達するという
良い学習サイクルを生み出していると思います。
イタリア セリエA キエーボ・ベローナ訪問について
今回、私はスクオラ・レオラルド・ダヴィンチ イタリア語学校の関係者を通じ、そのご縁でイタリア セリエAに所属するキエーボ・ベローナへの訪問が実現しました。
私はイギリスでサッカーコーチとして活動を始めました。約6年間、イギリスでサッカーコーチとして活動してきて、他のヨーロッパのサッカー強豪国のサッカーに関わってみたいという思いから今回、イタリアを選び、まずはイタリア語の習得からという考えで今回、スクオラ・レオナルド・ダビィンチを選び、今回の関係者との出会いからキエーボ・ベローナへの訪問のご縁へとつながりました。
キエーボはセリエBから昇格してきて、セリエAでは上位クラブとはみなされていないものの、見事な健闘を見せ、セリエAでのプレーを継続しているクラブです。
今回はチームの監督である、ジュゼェッペ・サンニーノさんとその右腕であるヘッドコーチとの対面をさせて頂き、お話をさせていただきました。
その詳しい中身をここで詳しく書く事は省かさせていただきますが、セリエAとセリエBの違い。選手たちの管理の仕方やユース以下の選手達へのコミュニケーションの取り方などをお話しさせて頂きました。
その後はチームの練習を視察させて頂きました。本来であれば、当日の練習はA.Cミラン戦の前日という事もあり非公開でしたが、特別に視察の許可をいただきました。
ここも詳しい内容は省かさせて頂きますが、イタリア人監督らしく、戦術の確認では細かく何度も止めて修正していたのが印象的でした。
サッカーのスタイルは国によって全く違うといいます。私は約6年間、イギリスで活動していた事もあるためか、イギリスサッカーの感覚でサッカーを見ている所がありますが、今回のイタリアのサッカーの基本コンセプトや練習方法を視察できたのは大きな経験になりました。
短いですが、ここでキエーボ・ヴェローナ訪問記を終えたいと思います。
最後にこの機会を与えてくださり、尽力してくださった学校関係者の方達に感謝を申し上げたいと思います。
Scuola Leonardo da Vinci Milan is located in the city center in "Crocetta" district known for its liveliness, style and culture attractions.

Thanks to its prestigious universities and academies, Milan is the elected place of education for numerous Italian and international students.
Latest posts by Scuola Leonardo da Vinci Milan (see all)