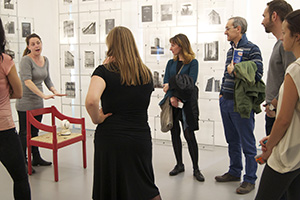 Il mese di aprile dedicato al #design è finito ma vogliamo ringraziare tutti gli studenti che ci hanno seguito nelle numerose attività proposte!
Abbiamo visitato insieme realtà importanti come Superstudio più nella famosa Via Tortona e conosciuto di persona #designer che raccontano con le loro opere l'Italia di oggi (Daniele Basso http://www.danielebasso.it ).
Siamo entranti a bere uno spritz in uno dei bar più trendy della città il Triennale Design Cafè e abbiamo scoperto come si diventa  #designer dalle parole dell'acclamato Philippe Casens.
Ci siamo avvicinati alle creazioni di Vico Magistretti, direttamente nel suo studio dove la nipote ci ha raccontato la storia di questo uomo eccezionale.
Ecco le parole di uno dei nostri studenti:
"Ad Aprile mi sono stato divertente con l'attivita della scuola. Il museo del novecento e la mostra di Leonardo da Vinci erano molto interessante  Anche sono andato all'aperitivo nel triennale e In una fine settimana siamo andati a Lambrate dove c'erano molti posti con cose di design. È stato molto interessante".  Ramses Vos
È stato un mese intenso e ricco di scoperte per tutti e la affollata festa al Tongs Bar ne è stata la dimostrazione!
Ora che abbiamo conosciuto così a fondo questo tema ci prepariamo a quello del prossimo mese…quale sarà? Seguiteci e  non ve ne pentirete!
Scuola Leonardo da Vinci Milan is located in the city center in "Crocetta" district known for its liveliness, style and culture attractions.

Thanks to its prestigious universities and academies, Milan is the elected place of education for numerous Italian and international students.
Latest posts by Scuola Leonardo da Vinci Milan (see all)