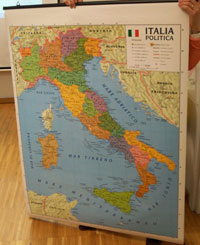 Sai che i tre laghi più grandi d'Italia si trovano a poco più di un'ora da Milano?  Sai che a Rimini puoi assaggiare un mega uovo di cioccolato di mezza tonnellata?  Ma perché degli amici sardi ti gridano "Ajò!" ?  In Italia ci sono 20 regioni e ognuna ha una sorpresa da offrire.  Alcuni studenti del livello 6 lo sanno bene e oggi hanno pensato di portarci a fare quattro passi virtuali nei luoghi che amano di più.
"Abbiamo definito insieme una scaletta di argomenti interessanti a inizio settimana e poi ci siamo messi subito al lavoro" spiega Seda che confessa di avere una predilezione per la geografia.  I relatori avevano a disposizione 15 minuti per far conoscere la propria regione con grafici, video, foto e anche canzoni. "Sono abituata a fare presentazioni" dice Carla "ma è stata la prima volta in italiano".  "E' stata una sfida con me stesso" precisa Luca.  Una sfida a cui si è aggiunta l'adrenalina di una vera presentazione a studenti e insegnanti di altre classi.
Dopo pochi minuti, la curiosità ha trasformato tutti i partecipanti in autentici viaggiatori alla ricerca di avventura, esperienze e imprevisti.  Spostandoci attraverso dati topografici e cenni di storia, abbiamo raggiunto l'arte, il cibo, la lingua parlata nelle varie regioni.  Abbiamo scoperto il paradiso sulla Costiera Amalfitana, abbiamo conosciuto San Francesco in Umbria e ci siamo commossi nel vedere Milano attraverso le note della sua canzone.  
Per più di un'ora abbiamo preparato il nostro prossimo viaggio…Ajò! Ajò! Adesso partiamo per davvero!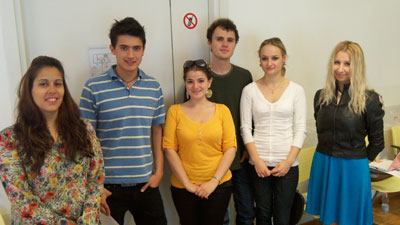 A cura di:
•    Seda Oganesyan La regione dei laghi in Lombardia
•    Olga Kostetskaya Rimini e Emilia Romagna
•    Carla Saliba La Costa Amalfitana
•    Luca Wistendhal Umbria
•    Daniel Felipe Salas Quijiano Sardegna
•    Oxana Semchenkova Lombardia
Scuola Leonardo da Vinci Milan is located in the city center in "Crocetta" district known for its liveliness, style and culture attractions.

Thanks to its prestigious universities and academies, Milan is the elected place of education for numerous Italian and international students.
Latest posts by Scuola Leonardo da Vinci Milan (see all)