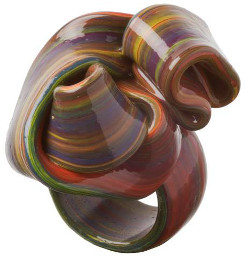 Lo scorso giovedì pomeriggio gli studenti della Scuola Leonardo di Milano hanno visitato la Triennale di Milano.
Per tutti i milanesi la Triennale è il primo sinonimo di Design! Un intero museo di 3 piani situato in un imponente edificio nel cuore del Parco Sempione che ogni mese ospita mostre ed eventi di arte, design, architettura, moda, cinema, comunicazione e società.
Spesso le mostre più interessanti sono gratuite e dopo la visita guidata con la nostra Valentina A. gli studenti possono rilassarsi con un aperitivo al Triennale Design Cafè o fare un giro alla fornitissima libreria del museo ovviamente specializzata in volumi e gadget di arte e design.
Questo mese tra le mostre più interessanti (e gratis) segnaliamo "Il design italiano incontra il gioiello", una rassegna storica di gioielli dagli anni '50 ad oggi che include anche una sezione con gioielli progettati e realizzati ad hoc per la mostra.
La curatrice (responsabile) della mostra la definisce così: "La mostra presenta 72 designer che definiscono l'intelligenza del design italiano in un gioiello"
Immagine: Gaetano Pesce, Ribbon l'anello in resina flessibile
Ecco qualche opinione:
Valentina A., attuale responsabile delle attività del tempo libero "Visitare la Triennale è ogni volta come entrare in un mondo diverso, quello delle idee. Gli studenti sono stimolati nella ricerca delle idee che stanno dietro ad ogni oggetto o progetto e la condivisione della scoperta è un'esperienza unica."
Mariia, studentessa russa:
"Vede tutte queste cose è una grande forte di ispirazione per me è interessante come trasformare e rendere Arte oggetti della vita ordinaria."
Scuola Leonardo da Vinci Milan is located in the city center in "Crocetta" district known for its liveliness, style and culture attractions.

Thanks to its prestigious universities and academies, Milan is the elected place of education for numerous Italian and international students.
Latest posts by Scuola Leonardo da Vinci Milan (see all)