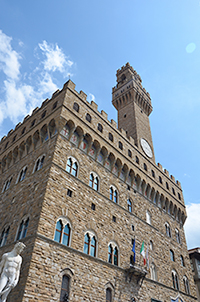 Dopo l'Unità d'Italia del 1861, il 15 settembre 1864 a Parigi, grazie ad un accordo fra il re Vittorio Emanuele e la Francia di Napoleone III, viene deciso di trasferire la capitale da Torino a un'altra città. Appena la notizia si diffonde non mancano le proteste dei torinesi: la nuova città scelta è Firenze.
Firenze è costretta a cambiare la sua solita routine, la sua pigra vita sociale e rivedere il vecchio assetto urbanistico per accogliere il gran numero di burocrati piemontesi, dare loro uffici, case e alloggi e moltiplicare alberghi e residenze. È l'inizio della modernità.
I palazzi e i conventi ci sono, vengono ristrutturati e adattati così che la Corte e il Governo si trasferiscono nella nuova capitale e scelgono come sede i palazzi storici fiorentini: il 3 febbraio del 1865 il re Vittorio Emanuele trascorre la prima notte nello splendido Palazzo Pitti.
Dalla porta del giardino di Annalena, a due passi dal Giardino di Boboli, può, a suo piacere, andare e venire indisturbato e senza essere visto per recarsi a villa la Petraia per incontrare " la bella Rosina", che alla morte di Maria Adelaide d' Asburgo, diventerà sua moglie.
In poco tempo arrivano a Firenze più di 30 mila persone, cambia la vita della città: aumentano le feste e i ricevimenti, ci sono caffè aperti all'alba, dove si mangia, si balla e si beve da tarda notte fino a giorno fatto, aumenta il lusso e nella nuova capitale ci sono ben nove teatri.
Insomma, Firenze, culla del lingua italiana, nel breve tempo in cui è capitale, lo sarà fino al 24 giugno 1871, data dell'ultima seduta in Palazzo Vecchio, riesce a cambiare e ad adattarsi alla nuova modernità, a trasformarsi per dare a tutte le persone che vi abitano spazi per gli acquisti, per il passeggio, per il tempo libero e per la cultura.….ma questa non è la Firenze che ancora oggi conosciamo?
Maggiori informazioni sulla Storia di Firenze:  http://www.aboutflorence.com/history-of-Florence.html

The Scuola Leonardo da Vinci is situated in the Heart of the Old City of Florence near Piazza del Duomo. From here you can reach the most famous squares and sights in a few minutes' walk.





Latest posts by Scuola Leonardo da Vinci Florence (see all)