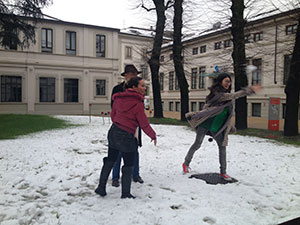 Venerdì pomeriggio gli studenti di livello A1-B di Scuola Leonardo da Vinci di Milano hanno passato una lezione speciale ..
Con la neve nel cortile del campus nessuno ha saputo resistere e così la pausa del pomeriggio è passata tra una foto e una battaglia a palle di neve!
Di ritorno in classe, Giuliana ha proposto agli studenti di cantare una canzone a tema: 'La neve se ne frega' del cantautore italiano Luciano Ligabue.
Ecco un breve video del risultato! Prendete spunto e cominciate a partecipare al #contestsanremo!
Aspettiamo le vostre performance!
Scuola Leonardo da Vinci Milan is located right in the heart of the dynamic Navigli District just few steps away from the city center and main tourist attractions. There's no better place to dive inside the creative and innovative soul of Milan and relish the vibrant atmosphere around our Campus.




Latest posts by Scuola Leonardo da Vinci Milan (see all)