L'autunno è la stagione dei sapori. Castagne, cachi, funghi, tartufi, olio e vino nuovo. Infatti a Novembre l'argomento "olio" entra a far parte di molte conversazioni quotidiane. Vi siete chiesti perché? Proprio perché è in diverse regioni di Italia è il tempo di raccolta delle olive! Anche nelle campagne attorno a Firenze infatti ci sono molti  piccoli produttori, agriturismi e famiglie che si dedicano a questa tradizionale pratica. Per molte famiglie, è occasione di ritrovo: tutti intorno agli alberi, con teli, bacchetti e rastrellino.
La Raccolta delle Olive
Spesso funziona così: si utilizzano dei teli molto grandi da distendere ai piedi dell'albero e vari attrezzi per permettere alle olive di cadere dall'albero. Il metodo più tradizionale è tramite dei piccoli rastrellini o addirittura con le mani. Una volta "spogliato" l'albero delle sue olive, si raccolgono in delle casse. A fine raccolta, si prendono tutte le casse e si portano al frantoio, dove le olive saranno spremute e processate. Il risultato è un liquido viscoso e dorato, leggermente piccante: l'olio di oliva! Ovviamente, oggi esistono nuove tecniche di raccolta utilizzate principalmente per la produzione industriale.
Prodotto importantissimo per il Chianti, l'olio di oliva è fondamentale per la cucina italiana in generale. Infatti, a parte le fritture, l'olio viene usato per moltissime cotture, i condimenti e i contorni. Il pinzimonio ad esempio è un piatto a base di olio e verdure crude: in una ciotola piccola si mette l'olio con un po' di pepe e sale e poi vi si intingono sedani, carote, finocchio, carciofo e cipolline. Molto tipico di questo periodo è anche la bruschetta con l'olio nuovo (una fetta di pane tostato condito con l'olio nuovo) o la bruschetta cavolo nero aglio e olio nuovo.
Tanti eventi sull'olio alla Scuola Leonardo da Vinci
Alla Scuola Leonardo da Vinci di Firenze questa settimana sarà possibile fare escursioni al frantoio, per vedere con i propri occhi i processi di produzione e assaggiare l'olio. Inoltre, a scuola, martedì 17 novembre dalle 16 alle 17 si terrà un incontro alla scoperta dell'olio extra vergine della provincia fiorentina, con piccola degustazione a seguire.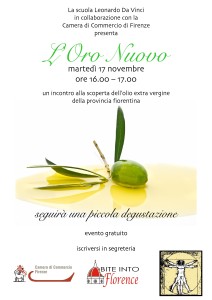 Per più informazioni, chiedete in segreteria! Vi aspettiamo per assaggiare l'olio nuovo!

The Scuola Leonardo da Vinci is situated in the Heart of the Old City of Florence near Piazza del Duomo. From here you can reach the most famous squares and sights in a few minutes' walk.





Latest posts by Scuola Leonardo da Vinci Florence (see all)