In Italia si festeggia la festa degli innamorati il 14 febbraio con il nome di San Valentino. San Valentino era un martire umbro, famoso per essere stato il primo religioso a unire in matrimonio un legionario pagano e una cristiana.
La festa di origine religiosa continua ad essere festeggiata, in seguito, grazie allo scrittore Geoffrey Chaucer che nel Medioevo associa la ricorrenza al fidanzamento tra Riccardo II di Inghilterra con Anna di Boemia. Dal 1800 nei Paesi anglosassoni è tradizione scambiarsi biglietti d'amore chiamati Valentine in questa ricorrenza.
Oggi la data del 14 febbraio è festeggiata quasi in tutti i Paesi, con regali tra le coppie di innamorati o usanze più particolari. In Giappone ad esempio il dono di cioccolatini da parte delle ragazze è ricambiato dai ragazzi un mese dopo con cioccolato bianco.
In Italia gli innamorati festeggiano normalmente con piccoli regali o  gite romantiche; se anche voi volete passare una bella giornata in città eccovi una lista dei luoghi più romantici che non dovete perdervi!
Per gli amanti della natura consigliamo: il Ponte delle Sirenette nel cuore di Parco Sempione. Se la giornata è soleggiata potete passeggiare in uno dei parchi più belli in città per scoprire questo angolo magico e poi proseguire con un aperitivo vicino al meraviglioso Arco della Pace.
Appassionati di arte? Visitate il quadrilatero del silenzio con la vostra dolce metà. A pochi passi dalla fermata Palestro perdetevi lungo Via Dei Cappuccini e ammirate i palazzi in stile neoclassico e liberty. Un caffè a bordo piscina nel parco di Villa Necchi Campiglio vi farà viaggiare nel tempo in un solo pomeriggio.
Se volete gustarvi il lato più cosmopolita della città fissate il vostro appuntamento in Piazza Gae Aulenti. Centro nevralgico della Milano più dinamica vi stupirà con il panorama futuristico e i grattacieli scintillanti. Passeggiate poi in Corso Como per un drink o una cena.
Un bacio sulle terrazze del Duomo? Questa è l'opzione più classica che conquisterà anche l'ultimo dei romantici! Salite sopra la cattedrale simbolo della città e lasciate che i vostri sguardi si perdano all'orizzonte, la vista su Milano è indimenticabile da qui.
Non siete in coppia? Non disperate…Milano offre un ricco calendario di party anche in questa serata! Radunate i vostri amici e scatenatevi!
Ecco un link utile per innamorati e non http://www.milanotoday.it/eventi/cultura/cosa-fare-a-san-valentino.html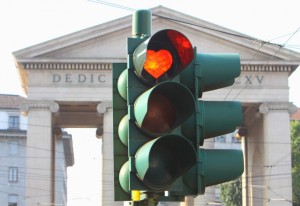 Scuola Leonardo da Vinci Milan is located in the city center in "Crocetta" district known for its liveliness, style and culture attractions.

Thanks to its prestigious universities and academies, Milan is the elected place of education for numerous Italian and international students.
Latest posts by Scuola Leonardo da Vinci Milan (see all)