Dove? Palazzo Morando- Costume Moda Immagine, via Sant'Andrea 6 Milano.
Quando? Dal 26 gennaio al 9 aprile 2017
A Palazzo Morando sono in mostra più di 200 paia di scarpe e 80 disegni di Manolo Blahnik, una leggenda nel mondo delle calzature. Il percorso nel museo è tra creazioni antiche e moderne; scarpe disegnate per il film di Sofia Coppola: Marie Antoinette e scarpe create soltanto l'anno scorso.
L' immensa varietà di questa mostra non sta solo nei  diversi tipi di scarpe realizzate ma anche nella varietà dei tessuti usati, dalla seta al velluto, con allacciature squisitamente disegnate. È evidente l'influenza multiculturale nei disegni di Blahnik poiché si possono trovare dai motivi tribali al tartan scozzese. Inoltre l'amore dello stilista per la natura è ancora vivo ed è una fonte d' ispirazione per le scarpe floreali.
Se siete amanti della moda, delle scarpe, dell'arte o di Manolo Blahnik stesso, vale la pena di visitare questa mostra temporanea e rendere omaggio alle creazioni di questo stilista di fama mondiale.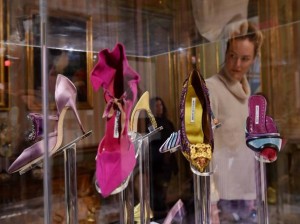 Scuola Leonardo da Vinci Milan is located in the city center in "Crocetta" district known for its liveliness, style and culture attractions.

Thanks to its prestigious universities and academies, Milan is the elected place of education for numerous Italian and international students.
Latest posts by Scuola Leonardo da Vinci Milan (see all)