Hai una passione per la lingua italiana e ti piacerebbe insegnarla agli stranieri? La Scuola Leonardo da Vinci offre corsi di preparazione all'esame DITALS durante tutto l'anno nelle sedi a Firenze, Milano e Roma. Ma che cos'è la certificazione DITALS e quando e come si può fare la preparazione per l'esame?
Che cos'è il DITALS?
DITALS è la certificazione di competenze in didattica dell'italiano a stranieri. Che significa? Tutti coloro che vogliono insegnare la lingua italiana agli stranieri – quindi come lingua secondaria/lingua straniera (L2/LS) – devono prima fare quest'esame. Il certificato è rilasciato dall'università per stranieri a Siena. Il corso di preparazione e l'esame possono però essere fatti anche direttamente presso le nostre scuole Leonardo da Vinci di Firenze, Milano e Roma!
In totale ci sono tre livelli diversi con requisiti, competenze e qualificazioni diversi: Ditals BASE, Ditals di I livello, Ditals di II livello. I dettagli delle differenze e ulteriori informazioni si trovano sul sito web officiale di DITALS: https://www.ditals.com/ditals/
Informazioni sui prossimi corsi
Le prossime date d'inizio del programma intensivo per quest'anno sono:
Il corso dura fra una o due settimane. Alla fine del corso è possibile fare il tirocinio necessario presso le nostre classi internazionali. Una grande esperienza durante la quale i partecipanti affiancheranno insegnanti specializzati nella didattica della lingua italiana a stranieri assistendo alle lezioni ma anche nella preparazione di attività per i diversi livelli linguistici: A1, A2, B1, B2 C1, C2.
Qual è il programma?
Il programma offerto dalla Scuola Leonardo da Vinci approfondisce le tematiche importanti relative all'insegnamento della lingua italiana a stranieri ed inoltre prepara all'esame e alle diverse sezioni:
•   Sezione A – Analisi di materiali didattici
•   Sezione B – Costruzione di materiali didattici
•   Sezione C – Conoscenze glottodidattiche
•   Sezione D – Competenze glottodidattiche orali
Per ulteriori informazioni sul Corso Ditals organizzato dalle Scuole Leonardo da Vinci, contattaci:
email: scuolaleonardo@scuolaleonardo.com
whatsapp: +39 370 334 0201
Oppure segui tutti gli aggiornamenti sulla nostra pagina dedicata su Facebook: https://www.facebook.com/FormazioneInsegnantiItalianoL2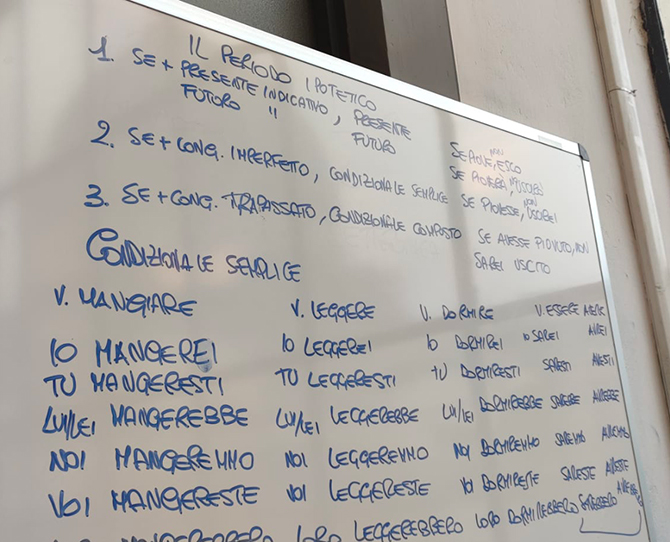 The Scuola Leonardo da Vinci is situated in the Heart of the Old City of Florence near Piazza del Duomo. From here you can reach the most famous squares and sights in a few minutes' walk.





Latest posts by Scuola Leonardo da Vinci Florence (see all)