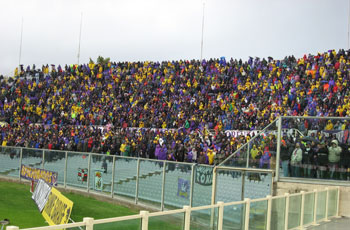 In spite of the bad weather forecast I couldn't get discouraged to go and see the soccer game played on 28 October 2012, which turned out to be such a fantastic one. Fiorentina beat Lazio (score 2-0) that finished the game only with nine men.
I bought the tickets at the FlorenceForFun student travel agency, where I also got discount being a trainee in the Scoula Leonardo da Vinci. Along with the ticket (that had my name on it, incredible!) I received a small leaflet with the history and team song of the Fiorentina team in both English and Italian language.
To tell you the truth it was the first time that I went to see a soccer game and I can proudly say that I couldn't have chosen a better and more interesting one, which was part of the Serie A Season. Having known that I was in Italy, where soccer is so much part of the culture and tradition, I was still surprised how well-organized the match was. From the main station of Florence called Santa Maria Novella there was a bus transfer available. Outside the stadium you could see all the big and dangerous umbrellas hung up on the fences. I don't need to say that the stadium was full of Fiorentina supporters, therefore being present wasn't risky at all. The section of the Viola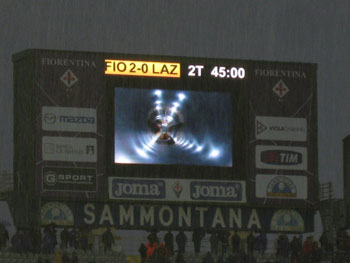 supporters looked and sounded amazing! There was no free seat left, everyone dressed up in viola, with huge flags and enthusiastic men that were keeping awake the Fiorentina team song and all the support related phrases. I know that people come to see the game but also this section of the stadium was very attractive.:) Being a foreigner it was entertaining as well, to listen to the indignant visitors when they didn't agree with the referee's decisions. An entire football game is almost like an Italian language lesson with only one difference: you improve first of all your swear-word vocabulary.:)
Despite the cold and continuous rain people didn't get tired or desperate, neither did I.. The game was so colorful: it lists a missed penalty, an incorrectly disallowed goal and two red cards. As I was sitting close to the players I was witness of loads of fiery moments.
If you happen to be in Florence, make sure you do not miss a Fiorentina match!

Italian Language Schools and Courses in Italy.
Learn Italian in Italy in Florence, Milan, Rome, Turin and Viareggio




Latest posts by Scuola Leonardo da Vinci (see all)