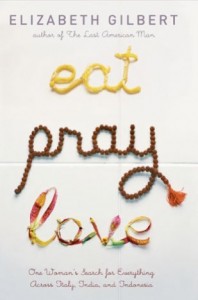 And the book, the bestseller Eat, Pray and Love,  became a movie, hopefully a blockbuster.
As we hinted last year, Julia  Roberts (yes that Julia Roberts!) plays Elizabeth Gilbert touring  the world  after  a divorce in a quest for the perfect life, i.e. good food, spirituality , love and success. And she really found them. Not all of them in one place, though. But, respectively,  in Italy, India and Indonesia (perhaps surprisingly). Of course Italy could have done better, but the Italian males were having a bad hair day and, after all, good food is more important than everything else, isn't it? And Rome was the place. It all started right here, and when I say here, I mean at the very  spot where I'm writing this, at the Scuola Leonardo da Vinci. After all It was us who taught Elizabeth "how to order the spaghettis".  At least that's what she emailed  a friend of hers, another former student of ours . Adding that we are "a deserving lingual institution" and sending our director the "warmest wishes for the continued success of the school".
Success? I forgot to tell  you about the fourth ingredient of perfect life. Can you guess where Elisabeth found that one? No? Then you'd better go and watch the movie and help her on her way.

City of God, the Sacred City, the City of the Seven Hills or simply… Rome!

The Eternal City has known it all. Victory and defeat, joy and tragedy, glory and humility marked Rome's history, culture and architecture. A magical place with vibrant, timeless lifestyle with countless secrets waiting to be discovered.

The Scuola Leonardo da Vinci is situated in the centre of Rome, in the pedestrian area, halfway from the astounding Piazza Navona, Castel S. Angelo and St. Peter Basilica. It is one of the largest schools in Rome.

We, from Leonardo da Vinci School have one mission – to introduce you to this exciting urban symphony. Every year thousand of students from more than 90 countries jump into this adventure hand in hand with us. Leonardo da Vinci School is not only leading language institute, but centre of Italian culture and lifestyle. We match our vast experience with our student' eagerness to know and learn and together we make it happen.





Latest posts by Scuola Leonardo da Vinci Rome (see all)