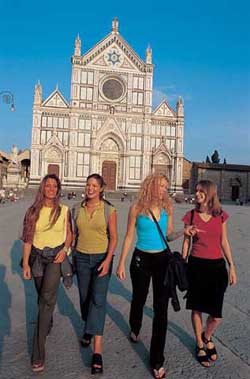 A recent article appeared in an Italian national newspaper (La Repubblica) revealed that many European students who chose Italy as a destination for their interchange program "Erasmus" are not happy about their experience abroad.
From a survey made by the free press "Studenti Magazine" and the association "Erasmus Student network Italia", came out that the Erasmus students in Italy generally have problems in finding an accomodation (apartments are always too much expensive), in moving into the University bureaucratic bother and even in communicating with Italians in the first period of time, because a lot of people can't speak English (and they need at least 1 month to learn Italian).
Thanks to our experience with international students, we are perfectly aware of the problems they find when they come to study in Italy, that's why we use all our energies to solve these problems.
We want that our students "feel like Italians" and live their experience in the best way.
Our staff, that is able to speak a fluent and perfect English, is always available to students and ready to help them if they have some problems, if they need suggestions about where to find cheap shops and markets, or how to look for a convenient accomodation (we offer free services in finding accomodation to our students too, as apartments or hosting families carefully selected by our staff).
For this purpose we chose to collaborate with some online non commercial tourist guides that can help our students to discover Italy and the cities where Scuola Leonardo da Vinci is located: about Florence, about Milan, about Roma and about Siena.
Our schools are equipped with all the facilities, such as bar/cafeteria, library or internet point with free internet access (this was another problem underlined by the survey).
Last but not least, our teaching staff consists of young teams of experienced language teachers, who have studied at University and have been specially trained in teaching Italian to foreigners (read about our teaching method), since another trouble for Erasmus students was the lack of professionalism by teachers.
We hope to offer another example for our students, on how could it be beautiful and exciting to spend a language holiday in Italy.

Italian Language Schools and Courses in Italy.
Learn Italian in Italy in Florence, Milan, Rome, Turin and Viareggio




Latest posts by Scuola Leonardo da Vinci (see all)