Would you like to discover the Italian secrets on how to prepare delicious dishes?
Then, organize your holiday as a cooking holiday in Italy. A cooking course in the lovely and charming city of Florence or in the cosmopolitan and artistic environment of the city of Rome. Our Italian language school gives you the chance to learn cooking just as an Italian can do, and to wonder your friends with delicious Italian recipes.
In fact, the Leonardo da Vinci schools in Rome and Florence organize a new Italian cuisine course for foreigners.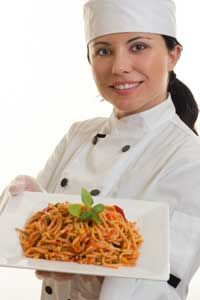 During this special course, students will learn the style of Italian culinary art: the course in fact, consists in the learning of the raw materials and the food processing techniques, interaction during the preparation process easily achievable but never ordinary.
You will learn all the secrets on how to prepare our traditional desserts, the important and undervalued combination of wine and dishes, the regional Italian recipes, a special on the pasta, preparation of cocktails and aperitifs, Mediterranean cooking, decoration and presentation…and much more.
The course is a true learning experience with the purpose of satisfying every kind of demand following and sometimes predicting the new trends of the food market.
Our teaching staff is made up of professional chefs of international fame, carefully selected and constantly in touch with national and international trends.
We offer 3 different course level and the possibility to upgrade from Professional level I to Professional level III, whereas as regards the duration of each level: courses last from 4 to 12 weeks in both Rome and Florence.
Starting dates are already available on our Italian language school website, and the courses in Florence start every two weeks, so why don't you have a look at them?

Italian Language Schools and Courses in Italy.
Learn Italian in Italy in Florence, Milan, Rome, Turin and Viareggio




Latest posts by Scuola Leonardo da Vinci (see all)