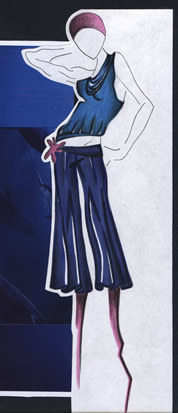 Would you like to enter a prestigious Italian Fashion and Design Academy?
Well, it would be much easier if you have at least a basic knowledge of the specific fashion or design Italian language…it would help you to pass the entrance test!
There are lots of students who decided to come to study the Italian secrets of fashion and design, and the first thing that students have to learn is Italian language, not the one of daily conversation, but just the specific sector language and terminology, to better attend the courses and also to pass all the exams!
For this reason, the Italian Language Schools for foreigners Leonardo da Vinci located in Florence and Milan, decided to create some new courses to help all those guys whose desire is to enter a fashion and design academy in Italy like NABA, Domus Academy, Istituto Marangoni, Polimoda, Scuola Politecnico di Design, Fashion School Carlo Secoli, UptoDate Fashion Academy, Istituto Europeo di Design, etc.
The "Preparatory Course for Fashion and Design Academies" can have a duration which varies from 4 to 28 weeks, and its main goal is to prepare students for the entrance test of the Academy they chose, by helping them to improve their skills thanks to the attention and the support of a qualified and experienced teaching staff.
During the first 24 weeks of the course, students without any knowledge of Italian language will learn and improve it, whereas the last 4 weeks will be dedicated to the study of Italian for fashion and design. While students with an excellent level of Italian will only have the 4 weeks specific language for fashion and design course.
In fact the course is open also to students who have a low-level Italian language knowledge, and students will have the opportunity to establish their starting level and the resulting course duration with a self-evaluation test to determine their Italian knowledge.
In the end of the course, students will obtain all the necessary instruments to face the entrance test of the academies with satisfying results.
Next starting date of the "Preparatory Courses for Fashion and Design Academies" will start on 6th April 2009, in our schools of Milan and Florence.
So guys, if your ace in the hole is creativity, and you would like to learn Italian for entering a Fashion and Design Academy in our country, then the "Preparatory Course for Fashion and Design Academies" is just perfect for you!
For all the information about Dates and Prices, visit our Italian language school's website.

Italian Language Schools and Courses in Italy.
Learn Italian in Italy in Florence, Milan, Rome, Turin and Viareggio




Latest posts by Scuola Leonardo da Vinci (see all)