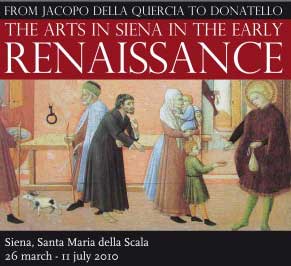 Did you know that Siena was an important artistic center during the early years of the Renaissance? The elegant refinement of artists such as Duccio, the Lorenzetti and Simone Martini can still be seen in many of the city's museums, churches and palaces. Later artists such as Giovanni di Paolo, Sassetta, Sano di Pietro and Vecchietta brought flowing figures and mathematical perspective into their art, while maintaining the harmony, detail and exquisite colors of the Sienese style.
Beginning March 26 visitors to the museum complex of Santa Maria della Scala will be able to see the evolution of the Sienese style in an important exhibition called "Early Renaissance in Siena." Organized by Max Seidel, the celebrated director of the Kunsthistorisches Institut in Florenz (-Max-Planck Institut) this show is the latest in a series of exhibitions that were projected to create a complete overview of Sienese art in the 13th to 16th centuries. This edition will cover the years 1400-1460.
Riding on the renewed interest in Sienese art inspired by the recent London exhibit "Renaissance Siena: Art for a City", the show in Santa Maria della Scala will feature close to two hundred works, including paintings, sculptures, miniatures, fabrics and objects made from precious metals. Thanks to new acquisitions and the cooperation of numerous international museums, visitors will have the rare opportunity to see altarpieces and other multi-paneled works reunited after many years apart. They will also be able to compare stylistic changes between centuries, note the difference between the Italian and European "International Gothic," and see the variations of the early Renaissance style in Florence and in Siena. For art lovers, this show is a must!
When: March 26-July 11, 2010
Where: Santa Maria della Scala museum Complex, 2 Piazza Duomo, Siena
Time: 10:30 am – 7:30 pm
Ticket price: to be established
Wheelchairs: yes
Extras: Guided tours, audioguides, didactic acitivities. An exhibition catalogue will be available.
Information: Segreteria SMS, tel no: 0577/534511 – 534501-534502, fax 0577/534517
Vernice Prog. Culturali (coordination), tel no: o577/226405, fax 0577/237659
Website: www.verniceprogetti.it, www.santamariadellascala.com
e-mail: info@verniceprogetticulturali.it, infoscala@sms.commune.siena.it , stampa@comune.siena.it

The Scuola Leonardo da Vinci is situated in the Heart of the Old City of Siena, just a short walk from the famous Piazza il Campo. From our school you can reach the most famous squares and sights in a few minutes' walk.





Latest posts by Scuola Leonardo da Vinci Siena (see all)