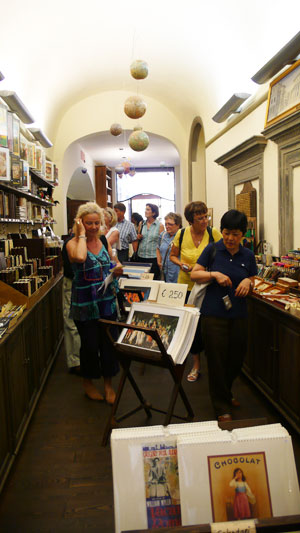 La scuola Leonardo da Vinci è una scuola per stranieri fra le più prestigiose. La lunga esperienza nell'insegnamento della lingua italiana, la competenza degli insegnanti e l'atmosfera serena durante le lezioni fanno di questa scuola una delle migliori. La scuola in Italia è presente in quattro tra le più belle città: Firenze, Roma, Milano e Siena.
La scuola Leonardo da Vinci di Firenze, sempre attenta ad offrire ai propri studenti un visione diversa e unica della città, organizza visite guidate in alcune botteghe artigiane (mosaici fiorentini, la lavorazione della pelle e del cuoio fiorentino, carta fiorentina artigianale…) facendo conoscere la parte più autentica della città, privilegio non di tutti i visitatori di Firenze. Naturalmente la scuola organizza anche visite di storia dell'arte alle chiese, monumenti e musei più interessanti della città.
Firenze vanta una tradizione artigianale di prestigio e Maestri artigiani capaci di creare capolavori avvalendosi di tecniche e abilità tramandate di generazione in generazione. Una lavorazione a mano che crea oggetti esclusivi, prodotti tipici di quella secolare tradizione artigiana per la quale Firenze è famosa nel mondo.
La nostra bella Italia ha una grande tradizione artigianale e un ampio patrimonio di bravi artigiani nei più differenti settori e lavorazioni, che spesso derivano da antiche espressioni artistiche tramandate nei secoli: lavorazione del legno e della pelle, tessuti e ricami, produzioni uniche da sempre ammirate nel mondo che valorizzano ancora oggi e la rendono unica .
Entrare in questi laboratori artigiani è come un salto nel passato, vedere come lavoravano nel Rinascimento, e stupisce la qualità delle produzioni artistiche che ancora oggi vengono realizzate come allora

The Scuola Leonardo da Vinci is situated in the Heart of the Old City of Florence near Piazza del Duomo. From here you can reach the most famous squares and sights in a few minutes' walk.





Latest posts by Scuola Leonardo da Vinci Florence (see all)