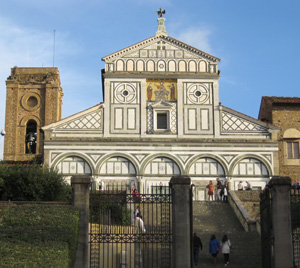 No matter if you fancy history of art or you have only a little knowledge about it, for sure you will participate in a fantastic guided tour organized by our school in Florence. During this out-door activity you will visit different churches, while you can immerse into the history of Florence and history of art. These churches are like museums hosting lots of masterpieces.
Moreover the teacher of history of art is an amazing person! Her attitude, her respect and love against art and history just get into everyone who attends her guided tours, her aim is to acquaint her audience with the most important facts and also to give an understandable overall insight of the different eras.
This time we visited the Basilica of San Miniato al Monte, which is situated on one of the highest points of Florence. From here you have a wonderful view at the entire city, the photos aside are the proof of it.:)
The structure of the Basilica is one of the finest examples of Tuscan Romanesque architecture and one of the most beautiful churches in Italy.
San Miniato was Florence's first martyr, possibly a Greek merchant or an Armenian prince, who left his home to make a pilgrimage to Rome. In about 250, he arrived in Florence and set up home as a hermit. He was beheaded during the anti-Christian persecutions and was then said to have picked up his head, crossed the Arno and walked up the hill of Mons Fiorentinus to his hermitage. At this spot there was a chapel by the 8th century. Construction of the present church was finished in 1018.
During the visit of the church we admired the interior, the Cardinal of Portugal Chapel, the Crypt, and the Chapel of the Crucifix, in the meanwhile the teacher drawed our attention to the typical Romanesque and also Renaissance characteristics.
If you are curious to know why there is zodiac mosaic in the nave floor, or if you want to know the explanation of how you can find Greek bestiary in a Christian church, or if you want to find out why the Crypt is not visible from the entrance of the Basilica, do not miss the tour next month!
Laura Gerlai
Versione italiana dell'articolo

The Scuola Leonardo da Vinci is situated in the Heart of the Old City of Florence near Piazza del Duomo. From here you can reach the most famous squares and sights in a few minutes' walk.





Latest posts by Scuola Leonardo da Vinci Florence (see all)