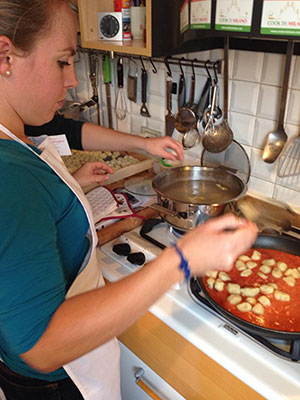 "Cook in Milano" e' una scuola di cucina in una casa privata nel centro di Milano.
Dopo aver vinto il corso di cucina, partecipando al concorso fotografico della Scuola Leonardo da Vinci di Milano siamo arrivati li martedì mattina e siamo stati accolti da chef Clara con tè, dispense di ricette e grembiuli con i nostri nomi.
Prima di tutto Clara faceva una piccola introduzione dei cibo italiano in generale, dei cibo di sud Italia in particolare e le ricette del giorno.
(Una storia particolarmente interessante era quello di come la pizza e stata inventata dei pescatori siciliani che mettevano l'impasto a pietra nella mattina e quando ritornavano il pomeriggio, la pizza era pronta!)
E questa era il nostro menu del sud di Italia:
- Pizza margherita
- Gnocchi al pomodoro e ricotta
- Parmigiana di melanzane
- Tortino di cioccolato
Dopo la cosa più importante - lavare i mani - siamo già andati in cucina per cominciare a cucinare.
La prima cosa da fare era l'impasto per la pizza che avevano fatto in 3 gruppi con due persone ciascuno e poi hanno lasciato per lievitazione.
Adesso era tempo per un po' di "lavoro manuale" - tagliare tutti i ingredienti - che e stata fatto velocemente con 12 mani.
Mentre bollivano le patate per gli gnocchi, friggevano le melanzane e preparavano il sugo di pomodori abbiamo preparato l'impasto per i tortini di cioccolato e abbiamo tirato l'impasto della pizza per metterlo in una teglia.
Quando il sugo e le patate erano pronti abbiamo preparato la pizza con il sugo e iniziato la cottura nel fornello.
Dopo era tempo per preparare l'impasto dei gnocchi e per mettere la parmigiana nella teglia  e nel forno.
Mescolare il resto del sugo con ricotta ha fatto un buonissimo sugo per gli gnocchi.
Mentre bolliva gli giochi uno alla volta abbiamo trovato un po' di tempo per un antipasto – spumante e formaggio per calmare il fame un po'.
Il tavolo era già preparato nel soggiorno per mangiare e abbiamo assaporato un pranzo buonissimo con un bicchiere di vino rosso. Dopo la tortina di cioccolata ciascuno era piena come un uovo! Quindi un buon caffè era necessario per aiutare la digestione.
Al fine ogni partecipante ha ricevuto un "Italian Cooking Diploma" distribuito da Clara.
Il corso era una esperienza fantastica e abbiamo imparato tantissimo da Clara che non era stanca di rispondere a tutti i nostre domande e di spiegare quando non avevamo capito qualcosa in italiano.
Vorrei ringraziare a Clara per l'ospitalità e la fantastica esperienza e alla SCUOLA LEONARDO DA VINCI per organizzare il concorso e il corso.
Christina, Germania
studentessa della Scuola Leonardo da Vinci di Milano
Per informazioni sui corsi di cucina offerti dalle Scuole Leonardo da Vinci: http://www.scuolaleonardo.com/it/corsi-culturali/corsi-di-cucina-e-vino/corso-di-cucina-arte-culinaria-italiana.html
Scuola Leonardo da Vinci Milan is located in the city center in "Crocetta" district known for its liveliness, style and culture attractions.

Thanks to its prestigious universities and academies, Milan is the elected place of education for numerous Italian and international students.
Latest posts by Scuola Leonardo da Vinci Milan (see all)