Are you dreaming of learning Italian and at the same time living a unique experience of immersion in the Italian spirit and culture?
Great! Scuola Leonardo da Vinci offers you the possibility to take the best Italian online courses while living Italian spirit wherever you are in the world.

Our Italian lessons online are held from Italy by our native teachers who continue giving a taste of Italian lifestyle to our students all around the World. You will speak in Italian form the first day, whatever your initial Italian level is.

Our Italian online courses are interactive, authentic and realistic, you will live a real classroom experience!

Available for intensive, part-time and individual classes, the online programs are held on all ability levels and the classes can be joined every week.

What is our offer?
• Intensive group course: consists of 20 lessons per week from Monday to Friday with a great flexibility of schedule.
• Part-time group course: consists of 4 or 6 weekly lessons
• Individual classes: consists of one-to-one lessons with a program developed by the teacher for each student individually based on their needs, competences and expectations.

Do you want a preview of our Italian language online courses?
• Watch our Italian language Online trial lessons.
• Follow the live stream of our free trial Italian lessons on our Facebook page.
• Check out some "lesson extract" videos by visiting our YouTube playlist.
The opinion of our students on the Leonardo da Vinci schools is very important for us!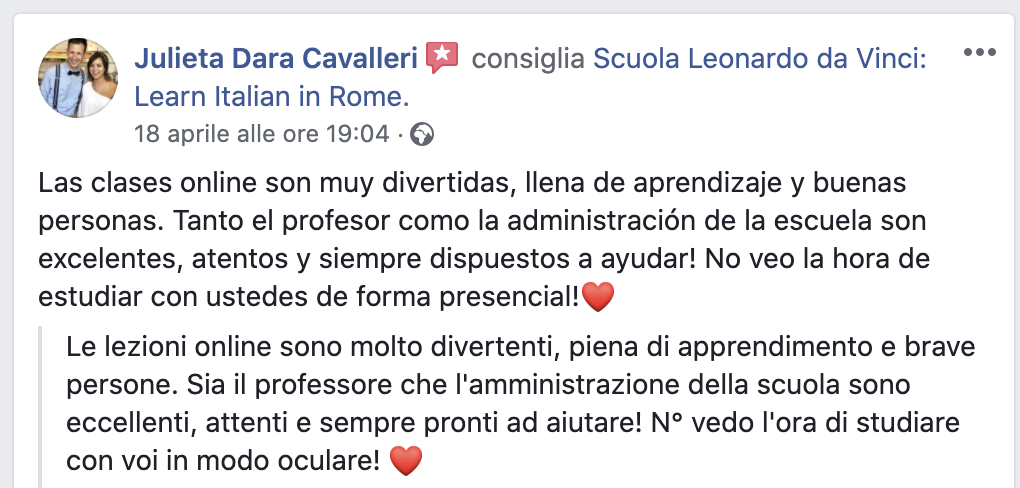 Distant yet never so close… with us!

We are waiting for you!

Italian Language Schools and Courses in Italy.
Learn Italian in Italy in Florence, Milan, Rome, Turin and Viareggio




Latest posts by Scuola Leonardo da Vinci (see all)