Da alcuni mesi la Scuola Leonardo di Milano offre una nuova coinvolgente attività: le lezioni di Yoga! Hanna, una simpaticissima studentessa olandese che da anni insegna yoga, allieta i nostri giovedì all'orario di pranzo con esercizi rilassanti e adatti anche a chi si approccia a questa disciplina per la prima volta.
Risultato: gli studenti dopo quest'ora escono dall'aula con il viso rilassato e un gran appetito!
Ma leggiamo alcune testimonianze delle partecipanti al corso:
Mi è piaciuto moltissimo perché è una bella forma di fare esercizio e rilassarsi. Soprattutto mi piace perché posso continuare con lo yoga essendo qui. Mi piacerebbe continuare con questo.
N. Svizzera
Una esperienza singulare! Bravo!
C. Brasile
Mi è piaciuto il corso di yoga tantissimo! Molto divertente. In Giappone ho fatto yoga ma in Italia non ho spazio per farlo!
A. Giappone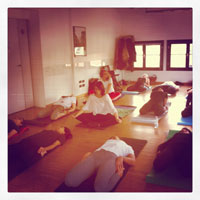 E ora le parole di Hanna, la nostra fantastica istruttrice:
Teaching Yoga at la scoula leonardo Da Vinci in Milano has been a learning and growing experience for me.
As it is always a challenge to teach a new group of people I have found the students to be very responsive and perceptive regardless of previous experience.  
There's a collective energy of focus and concentration which is a wonderful foundation on which to further explore Yoga.
That to me is the power of Yoga. Hopefully the students gain a thing or two from my classes but so far I gain so much from them.
Thank you.
Hanna
Scuola Leonardo da Vinci Milan is located in the city center in "Crocetta" district known for its liveliness, style and culture attractions.

Thanks to its prestigious universities and academies, Milan is the elected place of education for numerous Italian and international students.
Latest posts by Scuola Leonardo da Vinci Milan (see all)