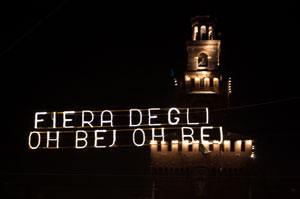 È quasi Natale, e nell'aria milanese già si sente il profumo di caldarroste e di vin brulé. Milano e il Duomo sono come sempre bellissimi: l'albero di Natale gigante è già illuminato e la gente gode della magica atmosfera natalizia facendo shopping o divertendosi a passeggiare tra le vie del centro.
Milano offre davvero tantissimo in questo periodo: uno dei momenti più belli per milanesi doc e per turisti e curiosi, è la fantastica fiera Oh Bej Oh Bej , anche detta Fiera di Sant'Ambrogio 2012.
È una festa antichissima, che risale a prima del 1300, e celebra sant'Ambrogio, il santo protettore di Milano. La città ogni anno si colora di bancarelle tipiche che vendono un po' di tutto: prodotti artigianali, cibi tipici, caldarroste, oggetti di ogni tipo, e attira ogni anno frotte di curiosi che trovano qui il loro perfetto regalo di Natale. La trovate attorno al  perimetro del Castello Sforzesco tra viale Gadio e piazza Castello, ed è davvero un must se avete la fortuna di essere a Milano in questo particolarissimo periodo dell'anno.
Un'altra ottima occasione di svago e interessante appuntamento annuale è la mostra internazionale "Artigiano in fiera", presso gli spazi di Rho-Fiera. Qui troverete tantissime bancarelle con oggettistica di qualità, fatta a mano, dall'Italia e dal mondo, e anche stand gastronomici dove assaggiare le più buone specialità alimentari italiane ed estere.  Un evento unico da non perdere!
Insomma, due ottime ragioni per visitare Milano nel mese più dolce dell'anno 🙂
Scuola Leonardo da Vinci Milan is located in the city center in "Crocetta" district known for its liveliness, style and culture attractions.

Thanks to its prestigious universities and academies, Milan is the elected place of education for numerous Italian and international students.
Latest posts by Scuola Leonardo da Vinci Milan (see all)