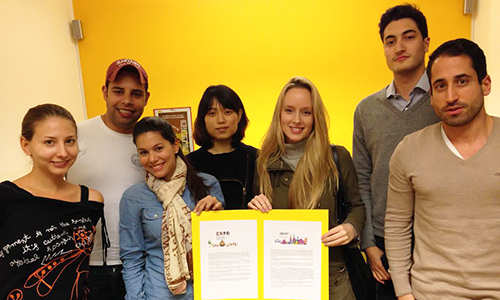 La nostra insegnante Sara ha coinvolto i suoi studenti di livello C1 in un compito interessante: parlare di EXPO 2015 che avrà come palcoscenico la città di Milano da maggio ad ottobre del prossimo anno.
Gli studenti hanno avuto modo non solo di scoprire qualcosa in più sull'evento che coinvolgerà tutta la città e il nostro Paese ma hanno anche conosciuto le opinioni degli italiani a riguardo.
Carta e penna alla mano i nostri ragazzi hanno posto qualche domanda ai passanti in un pomeriggio milanese….ecco un breve riassunto delle interviste!
Ha sentito parlare di Expo? Che cosa ne pensa?
Quali saranno gli aspetti positivi e negativi dell'evento su Milano?
Andrà a visitare Expo? Pensa che il costo dell'ingresso sia adeguato?
A quale Paese è più interessato all'interno del programma?
Le piacerebbe lavorare per Expo?
Cosa lascerà Expo a Milano?
Cosa ne pensa dello slogan 'Nutrire il pianeta. Energia per la vita' ?
Le risposte ci fanno capire che tutti gli intervistati, dai 18 ai 60 anni conoscono Expo sommariamente e pensano porterà benefici alla città. Per tutti però il costo dell'ingresso è un po' caro e non c'è molta informazione sul programma delle numerose attività.
I paesi che riscuotono più interesse sono quelli asiatici e l'Italia stessa.
Ovviamente mancano ancora un po' di mesi al grande evento e ci sarà tempo per prepararsi ma…se non volete perdervi nulla restate con noi! Qui alla Scuola Leonardo Milano stiamo preparando per voi un ricco programma di attività connesse ad Expo!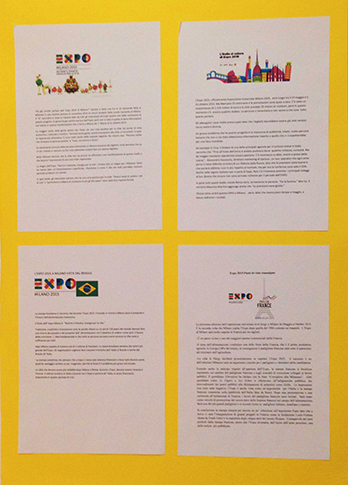 Scuola Leonardo da Vinci Milan is located in the city center in "Crocetta" district known for its liveliness, style and culture attractions.

Thanks to its prestigious universities and academies, Milan is the elected place of education for numerous Italian and international students.
Latest posts by Scuola Leonardo da Vinci Milan (see all)