Pandoro o Panettone?
Il panettone è il dolce natalizio italiano per eccellenza, soffice e ripieno di uvetta e canditi con la sua particolare forma a cupola. Il pandoro è un dolce natalizio altrettanto caratteristico. Rispetto al suo fratello, ha la forma di una stella a cinque punte e l'interno morbido e dorato senza uvetta e canditi!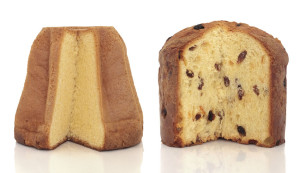 Queste due prelibatezze sono onnipresenti sulle tavole degli italiani durante il periodo natalizio. Spesso si portano come regalo quando si va a cena o a pranzo da qualcuno nei giorni prima o dopo il Natale e si mangia tutti insieme a fine pasto. Perciò, se qualcuno vi invita a casa sua e volete fare bella figura, portate pure un panettone o un pandoro! Ma attenzione: pur essendo paragonabili a livello di sapore,  questi due dolci dividono gli italiani tra i "panettonieri" e i "pandorieri": c'è chi mangia solo il pandoro e odia il panettone, c'è chi mangia solo il panettone e odia il pandoro. Fortunatamente ci sono anche i "pacifisti", che tendono a tollerare entrambi i dolci! Potete chiedere anche ai vostri ospiti cosa preferiscono: panettone o pandoro?
Origini del Panettone
Le origini di questo dolce sono milanesi e il nome viene dall'espressione "Pan di Toni". Alcune leggende narrano che a inventare la ricetta fu un tale Messer Ughetto degli Atellani, che per conquistare l'amore della figlia del fornaio - chiamato Toni - si fece assumere come garzone di bottega, e inventò questo ricco pane dolce che ebbe un grande successo. Un'altra leggenda vuole che durante un pranzo di Natale alla corte di Ludovico il Moro, il cuoco di corte fece bruciare il dolce. Per rimediare al danno, uno sguattero della cucina -  di nome Toni -  propose di servire in tavola il pane dolce di sua invenzione, fatto con gli ingredienti rimasti. Il dolce fu portato in tavola e riscosse grande successo tra i commensali. Un panettone moderno famoso è stato Paolo Biffi, che fece un enorme dolce per Pio IX e lo consegnò con una carrozza speciale nel 1847.
Origini del Pandoro
Il pandoro invece è storicamente il dolce di Verona, probabilmente chiamato nadalin nella sua versione duecentesca, anche se le sue reali origini sono probabilmente austriache. Alla corte degli Asburgo veniva infatti preparato il "Pane di Vienna". Altre testimonianza raccontano invece che il pandoro derivi dal "pan de oro", il dolce che veniva servito nelle case dei ricchi veneziani. La forma del dolce, insieme alla ricetta dell'impasto, fu brevettata il 14 ottobre del 1894 da Domenico Melegatti, titolare dell'omonima industria dolciaria.
Vieni a festeggiare con noi! Pandorata a Scuola
Alla Scuola Leonardo da Vinci di Firenze assaggeremo tutti insieme pandoro e panettone durante la nostra tradizionale Pandorata, che si terrà il 17 Dicembre. Sarà un'occasione per stare insieme e salutarci prima della pausa natalizia! Non mancare e vieni a brindare insieme a noi! 

The Scuola Leonardo da Vinci is situated in the Heart of the Old City of Florence near Piazza del Duomo. From here you can reach the most famous squares and sights in a few minutes' walk.





Latest posts by Scuola Leonardo da Vinci Florence (see all)