"Ma quanto tu sei bischero!"
Sembra una parolaccia, ma non è così! L'origine di questa parola è legata al destino di una nobile famiglia, residente a Firenze nel XII secolo, che di cognome faceva Bischeri. Questa antica e ricca famiglia fiorentina aveva numerosi possedimenti nella zona tra via dell'Oriuolo e piazza del Duomo, incrocio che ancora oggi si chiama "Canto dei Bischeri".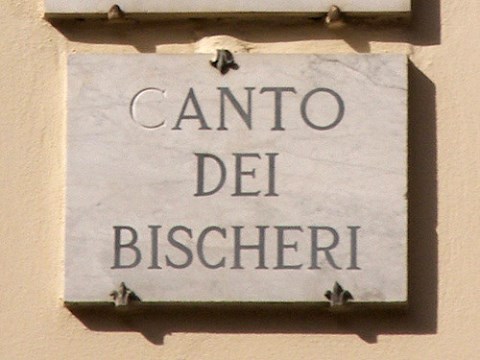 La fine dei "Bischeri"
Queste proprietà si trovavano proprio dove, verso il 1294, la Repubblica Fiorentina aveva intenzione di costruire la propria cattedrale: il Duomo di Firenze. Si narra che, volendo liberare quella zona, il Governo offrì ai Bischeri una grande somma di denaro per acquistare quei possedimenti, ma i Bischeri rifiutarono.
Poco dopo un grande incendio bruciò tutte le case dei Bischeri, e così rimasero senza soldi e senza case….

Da allora il termine "bischero", per quanto usato affettuosamente, indica una persona poco furba ma che tale si crede… Tanto che i Bischeri, emigrati all'estero dopo l'incendio, quando nel '500 fecero ritorno a Firenze, cambiarono il loro cognome, ormai infamato, in Guadagni.

"Ma sei proprio bischero", "Non fare il bischero", "Ma che bischerata l'è questa!"… sono espressioni assai comuni a Firenze per invitare in modo benevolo a non compiere azioni che, tutt'altro che furbe, provocano solo danno a chi le fa.
Se durante un vostro soggiorno a Firenze qualcuno vi dà di 'bischero', e può davvero capitarvi, non dategli peso: più che offendervi vuole mettervi in guardia dal non fare la fine del nobile antico casato!

The Scuola Leonardo da Vinci is situated in the Heart of the Old City of Florence near Piazza del Duomo. From here you can reach the most famous squares and sights in a few minutes' walk.





Latest posts by Scuola Leonardo da Vinci Florence (see all)