Situated in the heart of Tuscany, Florence is home to a multitude of famous artworks and monuments, and is a city overflowing with squares, fortresses, green parks, gardens, museums and art galleries. Heart of Renaissance, center of art, culture, history and crafts, Florence is the ideal destination to make your learning vacation an unforgettable unique experience.
Each year, thousands of students come from all over the world to study in the charming city of Florence. Why so many international students? Well, the world famous art and architecture is certainly the major reason, but not the only one.
Florence has much more to offer. Its delicious Italian cuisine, a world-class education, thousands students and young people, vivid nightlife made up of clubs, pubs, discos and cinemas, and not to be missed, the hospitality and warm character of its inhabitants, who will make your stay easier and more comfortable, so that you'll have many opportunities to make new friends.
Florence is a city which bustles with industry and crafts, commerce and culture, art and science. Being on the main national railway lines, it is also easily accessible from most important places both in Italy and abroad.
In addition, you absolutely can't miss the unique opportunity to visit the several world-famous monuments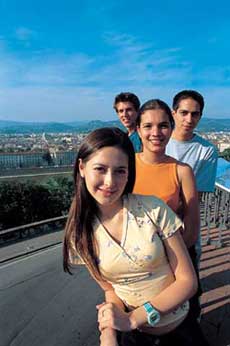 and museums spread all around the city: Palazzo Vecchio, the Pitti Palace, the renowned Cathedral (Duomo), the "Cupola", Giotto's Belltower, the Ponte Vecchio (the picturesque bridge with its cluster of shops), the Medici Chapels, and even the Uffizi Gallery, the Accademy Gallery, the Museum of the History of Science.
Our Italian language school for foreigners Scuola Leonardo da Vinci is located in the historical heart of the old city of Florence, and from here you can reach the most famous squares and sights in a short walk. Our staff's Italian teaching does not consist in just teaching grammar and vocabulary. They want to allow their students to gain insight into the Italian way of life and culture.
This is why they offer, in addition to the language courses, a whole range of optional activities to their students (excursions, walking tours, guided tours, visits to famous museums, etc). We offer programs for all ages, young and senior, students and teachers, beginner to advanced.
By the time you come back home, you will possess knowledge of a beautiful language and have many more opportunities in your life.
Still undecided? Florence awaits you to share this marvelous experience. Please don't hesitate to contact us if you have any questions about our programs.

The Scuola Leonardo da Vinci is situated in the Heart of the Old City of Florence near Piazza del Duomo. From here you can reach the most famous squares and sights in a few minutes' walk.





Latest posts by Scuola Leonardo da Vinci Florence (see all)