In the heart of Milan, where culture, history, and language converge, a unique experience awaits those who seek to embrace the Italian way of life. Introducing our beloved 'Dolce Vita' course – an exclusive journey transcending traditional language learning, tailored for our more mature students who appreciate the finer aspects of life.
Embracing La Dolce Vita
Derived from the Italian phrase meaning 'sweet life,' the 'Dolce Vita' embodies a philosophy that celebrates the beauty of simple pleasures, the allure of art, and the joy of cultural exploration. This course is more than a classroom endeavor; it's an immersion into the very essence of Italy.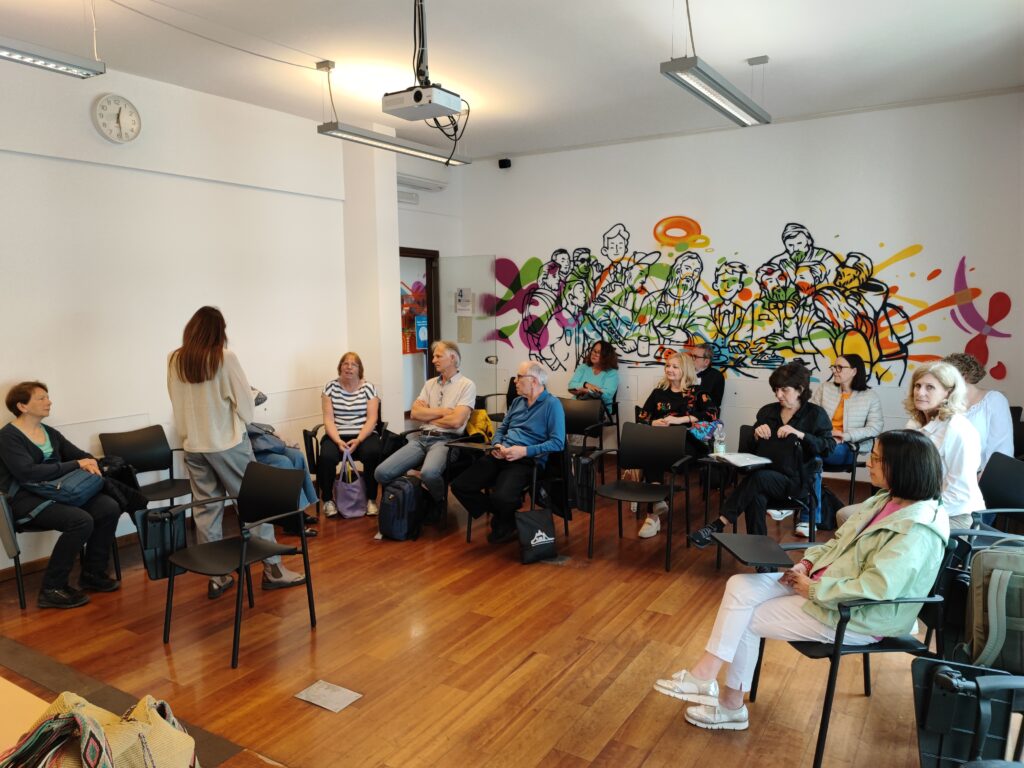 Crafting an Enriched Experience
The 'Dolce Vita' course takes place just three times a year, offering an intimate setting that fosters connections among like-minded learners. The next one will begin on September 18th, and you can choose whether you want to do 1 or 2 weeks.

The magic of the 'Dolce Vita' course lies in its afternoon cultural activities. From wandering through historic neighborhoods to uncovering hidden art gems, each excursion is designed to cultivate a deep understanding of Milan's rich history. Savoring local delicacies, engaging with artisans, and visiting iconic landmarks illuminate the city's soul, transforming every outing into a treasure trove of memories.

The course includes:
3 hours of Italian classes per day, from 9.00 am to 12.15 pm, with a 15-minute break
Cultural activities in the afternoon, to discover the beautiful city of Milan. These typically include:

o Walking tours around the city
o Guided visit at the Duomo
o Visit at Leonardo da Vinci's "Last Supper"
o Traditional milanese aperitivo
o Cooking classes
o Visits at historical villas and monuments
o Concerts at the temple of the Opera: the Theatre Alla Scala
… and so much more!

Read the experience of two of our latest Dolce Vita students:
I have spent a wonderful week at Scuola Leonardo da Vinci at Milano within the Dolce Vita group. It was a really beautiful experience. All staff were excellent, passionate, professional. I would especially thank my teacher Ana and our guide Luisa - two excellent ladies. I met nice people from around the world and this Dolce Vita program helped me to learn better Italian language and to know Milano from real Milanese 🙂 For sure I will be back again!

I just came back from 2 weeks at Scuola Leonardo da Vinci Milano. My son had already had a very positive experience at their location in Firenze (Florence), and the same applied to my brother and my nephew, so I decided to go as well, but to Milano (Milan), a city I love. My experience at the Milano branch was fantastic! I loved it! First of all, my mediocre Italian did improve a lot in two weeks, thanks to the wonderful teacher Massimiliano. Second, the program Dolce Vita with cultural, touristic, and gastronomic activities in the afternoon or evening was lots of fun (and also informative), thanks to the very nice guide Chiara. Both Massimiliano and Chiara are upbeat, pleasant, engaging people who made the whole experience extremely positive. The school uses technology very efficiently with large flat-screen monitors in the classrooms and online activities and exercises. The teachers are very knowledgeable and make complicated Italian grammar more accessible. The staff persons are helpful and polite. In summary, there are no negatives at all. I wish I could have had more time to be there; I think that with 2 or 4 more weeks my Italian would get to a good level. Another very good aspect was the full immersion of staying with an Italian family for lodging, booked through the school. Very nice family too; friendly, cultured, welcoming, and they served me very good food. I had such a good time! I strongly recommend the Scuola Leonardo da Vinci (and their Dolce Vita program with Italian classes in the morning and activities in the afternoon/evening) to anybody willing to learn the language and understand better the fabulous Italian culture. You won't be disappointed!

What are you waiting for?

Read more details about prices and starting dates on our website
USEFUL LINKS
Read more articles about our excursions and cultural courses:
Scuola Leonardo da Vinci Milan is located in the city center in "Crocetta" district known for its liveliness, style and culture attractions.

Thanks to its prestigious universities and academies, Milan is the elected place of education for numerous Italian and international students.
Latest posts by Scuola Leonardo da Vinci Milan (see all)