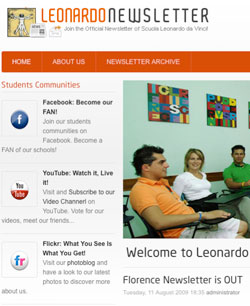 "ATTENTION all past, current, and future students of Scuola Leonardo Da Vinci". We have officially launched our LEONARDO NEWSLETTER SITE just for you!!"
We specifically created this site so you can keep up to date with all of our latest information, events and course offers, anytime, anywhere, and for all schools (Florence, Milan, Rome and Siena).
This new site will give you direct access to all current and past Newsletters and Blogs done by the many of our students and schools staff.
You'll be able to stay connected with us and other friends from Scuola Leonardo da Vinci also by joining our groups through Facebook and Twitter, following our videos on YouTube, and looking to our latest pictures on Flicker.  And the best part is that you will be able to directly subscibe to our Leonardo newsletter on this new site, so you can receive all this information quickly and easily.
So don't wait!  Go to http://newsletter.scuolaleonardo.com/ and check it out!

Italian Language Schools and Courses in Italy.
Learn Italian in Italy in Florence, Milan, Rome, Turin and Viareggio




Latest posts by Scuola Leonardo da Vinci (see all)