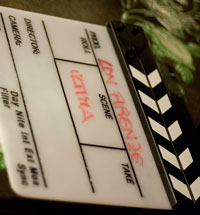 Scuola Leonardo da Vinci in Florence has realized a video to show people how interesting could be to make a language travel in Florence, Italy.
Thanks to the video you will discover how the first day in an Italian language school could be, which surprises one may encounter and how many people students could meet... remembering that it's only the beginning!
By the way this in not just a descriptive video: the mini movie is divided into 5 parts and represents a sort of game, so that you can choose twice a different development! Try all combinations and see in which way a day could change!
Moreover you will virtually visit the amazing city of Florence!
The short movie is entirely shot in first person and we would like to thanks people who took part to it:
Tomoe Sano – our student-protagonist
Federico Micali and Yuri Parrettini – Film director and Film editor (http://www.videoscenica.it/)
Web Marketing Team – Producer and Coordinator
For more information about Scuola Leonardo da Vinci you can also see the "Italian in Italy" youtube channel: http://www.youtube.com/italianinitaly
or the school's official website: http://www.scuolaleonardo.com/
ENJOY!!!

The Scuola Leonardo da Vinci is situated in the Heart of the Old City of Florence near Piazza del Duomo. From here you can reach the most famous squares and sights in a few minutes' walk.





Latest posts by Scuola Leonardo da Vinci Florence (see all)