Every now and then someone, a little discouraged by the biting cold of the Piedmontese winters, asks us for a good reason to come to Turin during this period.
We always reply that Turin is the Italian capital of chocolate and that, therefore, it is possible to warm up sipping a Bicerin or a hot chocolate in one of the historic places in the centre, but above all it is the moment in which our city is transformed into a museum open sky thanks to the Luci d'Artista.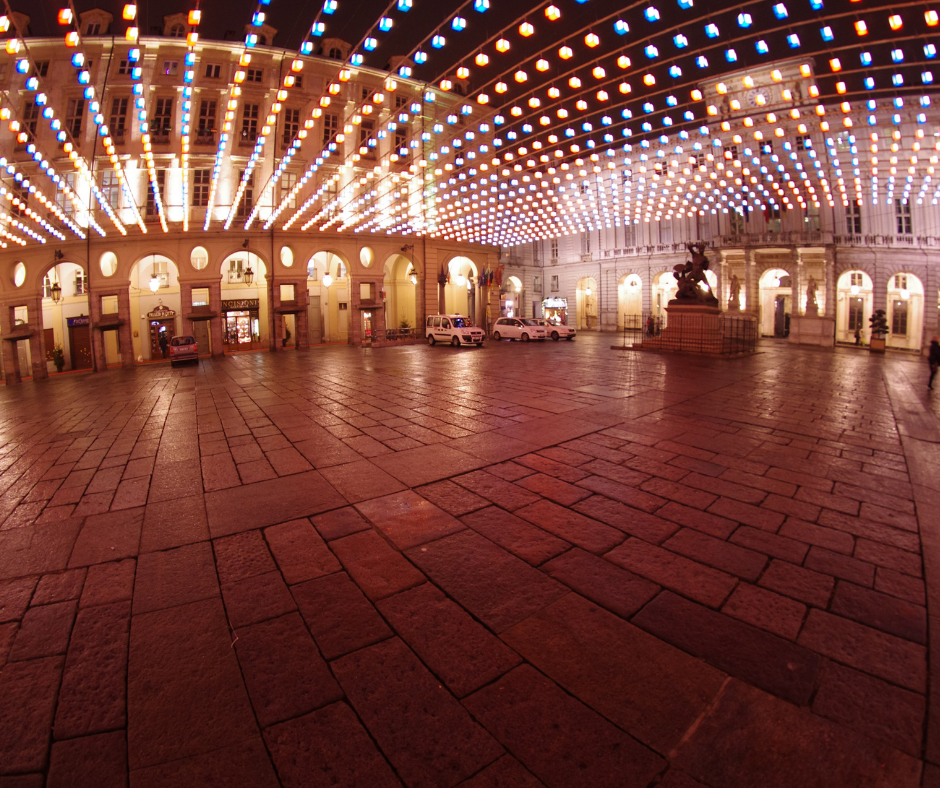 For 25 years the streets and squares of Turin have been lit up with masterpieces by Italian and foreign contemporary artists who have dedicated themselves to the theme of light and the city. Until mid-January, the city, from the center to the suburbs, is transformed into a luminous exhibition itinerary that is enriched with new works every year.

This year, to celebrate the twenty-fifth anniversary of the event, the following are added to the city heritage:
AZZURROGIALLO: by Giorgio Griffa at the Cavour Gardens: a flow of luminous energy composed of myriads of colored shades winds its way, suspended between earth and sky, next to the Niccolò Tommaseo school;
I WAS BORN HERE: by Renato Leotta, on the roof of the Sant'Anna Obstetrics and Gynecological Hospital in Turin;
…?…: by Grazia Toderi, a large question mark animated by a sparkling light that rises above the dome of the Basilica Mauriziana near Piazza della Repubblica.
Of course, the traditional ones are not to be missed:
COSMOMETRIES by Mario Airò in piazza Carignano;
The street lamps transformed into bright flowers by Nicola De Maria in Piazza Carlina (which for non-Turinians is called Piazza Carlo Emanuele II);
THE FLIGHT OF NUMBERS by Mario Merz on the dome of the Mole Antonelliana;
LOVE MAKES NO NOISE by Luca Pannoli at the Murazzi del Po;
The suggestive lights installed on Monte dei Cappuccini.

Even the Mole Antonelliana becomes more glittering during the Christmas holidays and gives a further magical touch to the city.
To know the complete list and the position of the Luci d'Artista read here

The Leonardo da Vinci partner School is situated in the Crocetta residential district of Turin.
The welcoming friendly atmosphere of our school will make you feel at home and you can relax with your classmates in the small gardens of the adjacent pedestrian area.

Latest posts by Scuola Leonardo da Vinci Turin (see all)