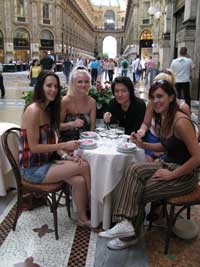 Vacanza studio? Prima volta a Milano? Vuoi incontrare nuovi amici?
La Scuola Leonardo da Vinci ti aspetta per dimostrarti quanto sia facile studiare, vivere e divertirsi a Milano.
Due volte al mese la Scuola Leonardo da Vinci di Milano propone ai suoi studenti un appuntamento imperdibile per orientarsi nella città: CONOSCERE MILANO, un tour a piedi di circa un'ora e mezza che permette di scoprire la zona dei navigli, nella quale sorgono la Scuola e poco lontano il centro di Milano. Un'interessante passeggiata che parte dalla scuola e risale il Naviglio Pavese, prosegue nel Naviglio Grande, e fa tappa in Piazza Ventiquattro Maggio, Porta Ticinese, Chiesa e Colonne di San Lorenzo, risale Via Torino e termina in Piazza Duomo.
CONOSCERE MILANO è da sempre un'ottima occasione sia per imparare ad orientarsi in centro città che per fare amicizia con gli studenti delle altre classi!
Durante la passeggiata vengono raccontate interessanti curiosità sulla storia di Milano e dei navigli.
Ma CONOSCERE MILANO non è solamente un'attività culturale!
Ristoranti, gelaterie e pub affollano l'area dei navigli: la Darsena, un tempo punto di confluenza del Naviglio Grande con il Naviglio Pavese e centro nevralgico dei commerci è diventato ora punto d'incontro tra i giovani milanesi e i turisti che vogliono vivere la movida milanese. San Lorenzo diventa di sera (specialmente nei weekend) un altro meeting point per eccellenza: giovani e adolescenti affollano le Colonne e la piazza antistante la Chiesa per bere una birra e chiacchierare.

Per gli amanti dello shopping selvaggio, via Torino con i suoi tanti negozi di scarpe e vestiti, è una delle Vie dello shopping più frequentate del centro cittadino.
L'appuntamento per il tour CONOSCERE MILANO è ogni primo e terzo martedì del mese, il pomeriggio alle 17.20.
Scuola Leonardo da Vinci Milan is located in the city center in "Crocetta" district known for its liveliness, style and culture attractions.

Thanks to its prestigious universities and academies, Milan is the elected place of education for numerous Italian and international students.
Latest posts by Scuola Leonardo da Vinci Milan (see all)